Acadia
Mackenzie Chesrown
Campus Leader
Granville, OH
Mackenzie returns to the Laurel leadership team for summer #3, her second as Acadia's Campus Leader. She's a long-time babysitter and cheer coach who recently graduated from The Ohio State University with a degree in education. We're thrilled to have Mackenzie's warmth and experience – Acadia will be, too!
Claire Christie
Asst. Campus Leader
Kingston, ON
Returning for year #2 after a stellar opening act, Claire makes the jump to the Campus Leader team. A Junior at Queen's University in Ontario working towards her Education degree. Spent many years running youth swim programs and teaching synchronized swimming. Claire brings incredible patience, fun and positivity to Acadia. We're lucky to have her!
Baxter
Lexi Smiertka
Campus Leader
New York, NY
Lexi returns for her second Laurel summer, and we're thrilled to have her in Baxter! Our Super Senior Head last summer, Lexi recently graduated with a Master of Social Work from NYU after earning her undergraduate degree at Chapman. A waterski and wakeboard enthusiast, she also served as Girls Head Counselor at her childhood camp. Baxter is in great hands with Lexi at the helm!
Becky Avila
Asst. Campus Leader
Santa Maria, CA
A San Diego State senior studying Recreation Management, Becky joins us for summer #1 on Echo Lake. She served as the Enrollment Manager for an after school program before becoming the Program Director of a California day camp. Welcome to the Laurel Family, Becky! We know you're ready to shine in Baxter!
Kennebec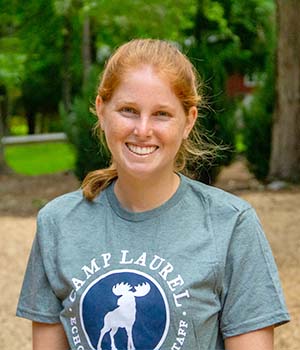 Sophie Shapiro
Campus Leader
Fort Lauderdale, FL
Sophie is back! A Laurel camper for seven summers, this is her 11th summer on the shores of Echo Lake. Sophie was part of our sailing team for two summers and the Baxter ACL for one. She earned all-district in high school lacrosse. We're very, very excited that Sophie's back on our leadership team!
Shalyn Bester
Asst. Campus Leader
Victoria, Australia
Shalyn joins us for summer #3 and steps into the leadership team after being an All-Star counselor. An experienced gymnast with 9 years of coaching experience, she earned multiple awards for her skills as a competitor in Australia. Thrilled to have Shalyn back in action with Bec!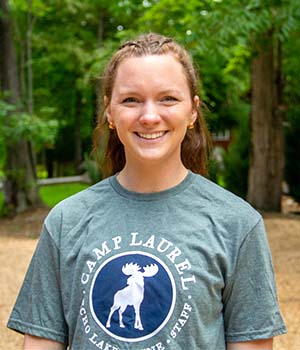 Jen Pawelski
Super Senior Head
Chicago, IL
"Jen P" returns as a Laurel Five-Year Club member. After two standout summers as a Bec counselor, Jen P was the Campus Leader for Bec for two summers. Her fiancé Jon, whom she met at Laurel, was a counselor and part of our administrative team for many summers. We couldn't be happier to have Jen P back at camp!
Meg Marshall
Super Senior Head
Los Angeles, CA
Another Laurel Five-Year Club inductee, Meg returns to our leadership team after two counselor summers and two Campus Leader summers. She's currently a Student Life & Events Coordinator for The Chicago School of Psychology. Welcome back, Meg!
Rachel Ahlmeyer
Super Senior Head
Plymouth, MA
Rachel is back for summer #4 and her second on the Campus Leadership team. She captained Springfield College's varsity tennis team and recently completed her Masters degree. What an amazing job she did as the Baxter Campus Leader in 2021. We're pumped to have "Bestie Rachel" back on Echo Lake!