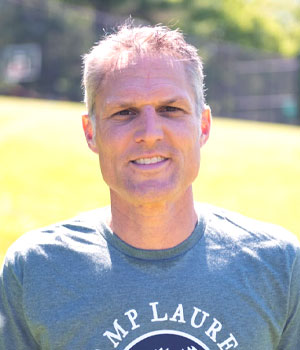 Eric Fierro
Athletic Director
Manahawkin, NJ
11th Year at Camp
A New Jersey Southern Regional High School teacher, football and basketball coach; Eric was nominated for 2014-15 New Jersey Teacher of the Year. In 2021, he won District Teacher of the Year and was a finalist for New Jersey Governor's Educator of the Year. The quarterback and punter for Ursinus College in Pennsylvania, Eric has coached football, basketball and track. He won the 2014-15 South Jersey Coach of the year award and spent more than a decade in charge of the New Jersey Southern Regional Schools' extended school year special education program. Coach Fierro is "the man" and infuses positive energy into every aspect of Laurel athletics!
Geoff Williams
Waterfront Director
Wilton, ME
35th Year at Camp
A true Laurel lifer, Geoff has spent every summer of his life at camp. He returns once again to the shores of Echo Lake as our Waterfront Director, having previously worked as the Co-Program Director, head of small crafts and sailing counselor. Geoff graduated from Rochester Institute of Technology where he captained the sailing team. He brings a lifetime of Laurel knowledge to our waterfront!
Zack Pettijohn
Adventure and InterArts Director
Aztec, NM
20th Year at Camp
A Drury College graduate who recently completed his MBA, Zack teaches building trades at San Juan College in New Mexico. Zack is the perfect fit for overseeing our adventure program – climbing, aerial park, mountain biking and outdoor tripping. He also manages our vast InterArts department, which encompasses performing, visual and culinary arts! He ensures that each aspect of our highly structured adventure and arts programs is safe, exciting and fun. Welcome back, Zack!
Corey Marsh
Tennis Director
Deerfield Beach, FL
5th Year at Camp
Corey joins the Camp Laurel 5-Year Club this summer. He's the head coach of Pine Crest School's varsity tennis teams. In 2022 he coached his boys varsity team to a second consecutive state championship, the third in school history. He's the former women's tennis head coach at Hunter College and adds a decade of coaching experience to Laurel tennis. He was head tennis coach of Berkeley Carroll in Brooklyn and was tennis director at a Long Island country club. Corey was a gold medalist in doubles at the NYS Empire State games, a silver medalist at the JCC Maccabi Games, and posted a .750 winning percentage at Gettysburg College before transferring and playing club tennis at Syracuse. We're thrilled and proud to have Corey's experience and knowledge at the Laurel tennis courts.
Dee Dee Turnquest
Equestrian Director
Windermere, FL
A University of Central Florida graduate, Dee Dee joins the Camp Laurel 5-Year Club and returns to the helm of the Laurel Equestrian Center. She previously merged her two passions – psychology and riding – in a children's equine therapy program. Dee Dee is experienced in hunter/jumper and dressage. A longtime competitive hunter/jumper coach in Florida, Dee Dee is great to have back!