Frosh & Jr. Acadia
Girls completed 1st, 2nd & 3rd grades
Activity List
Sample Schedule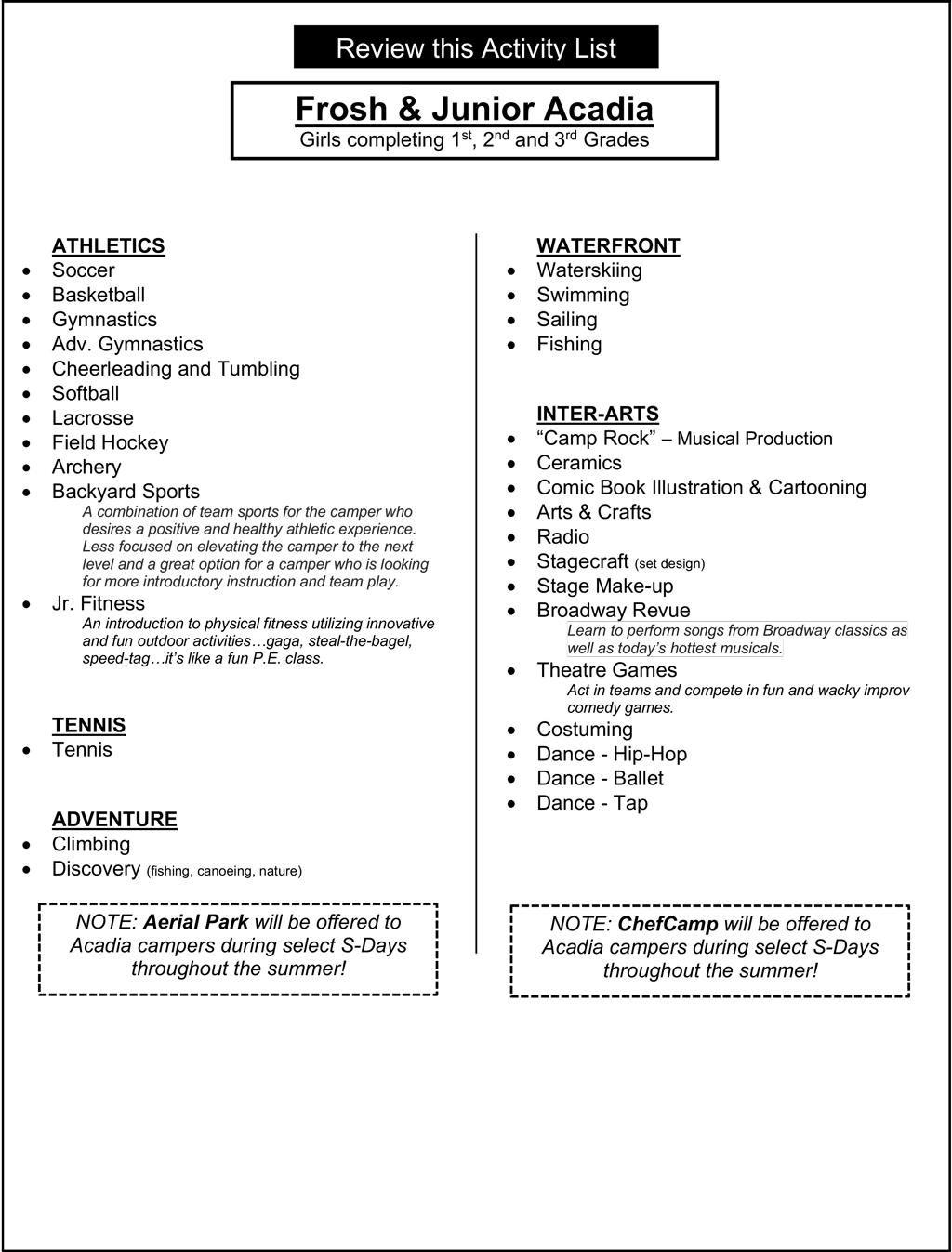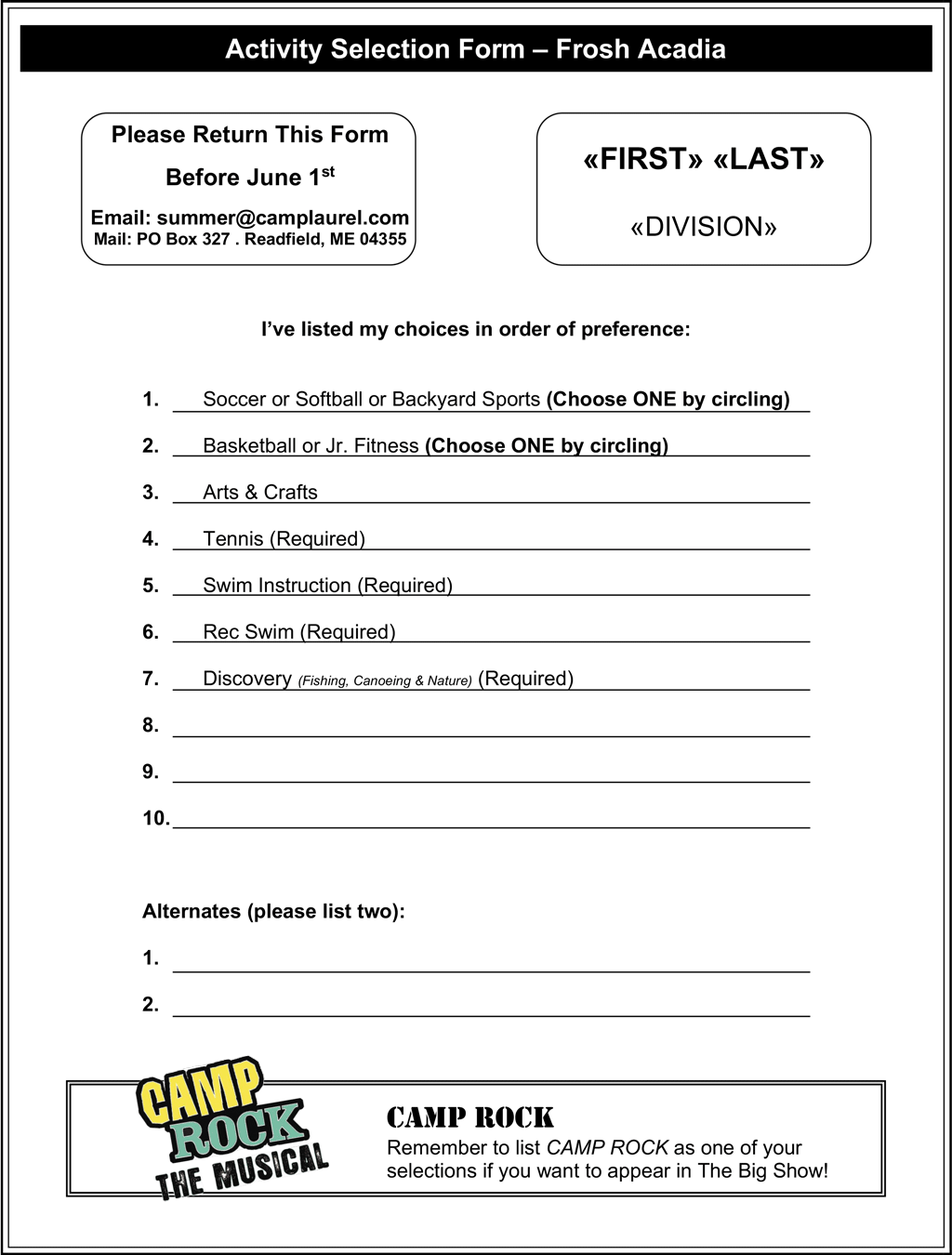 Senior Acadia
Girls completed 4th grade
Activity List
Sample Schedule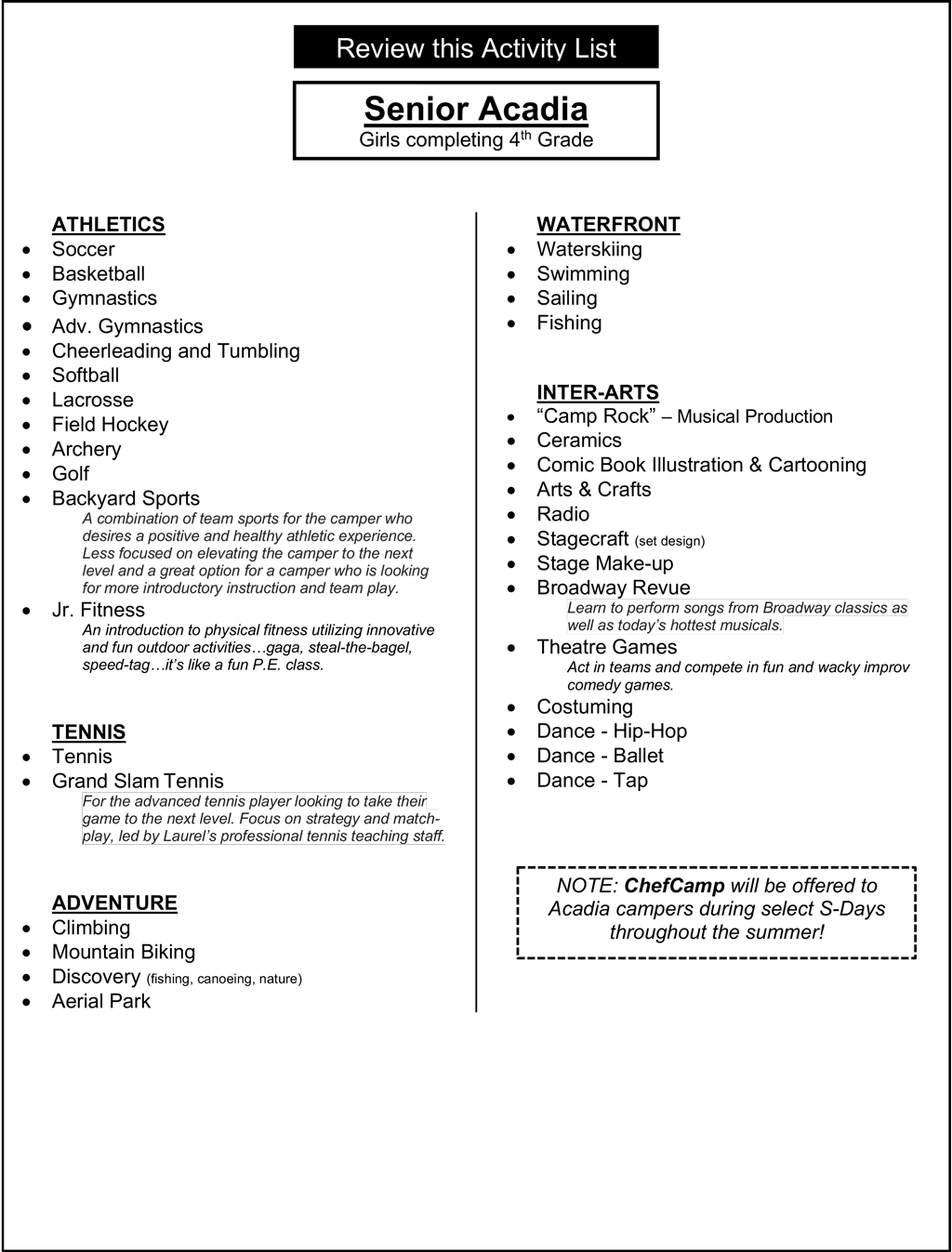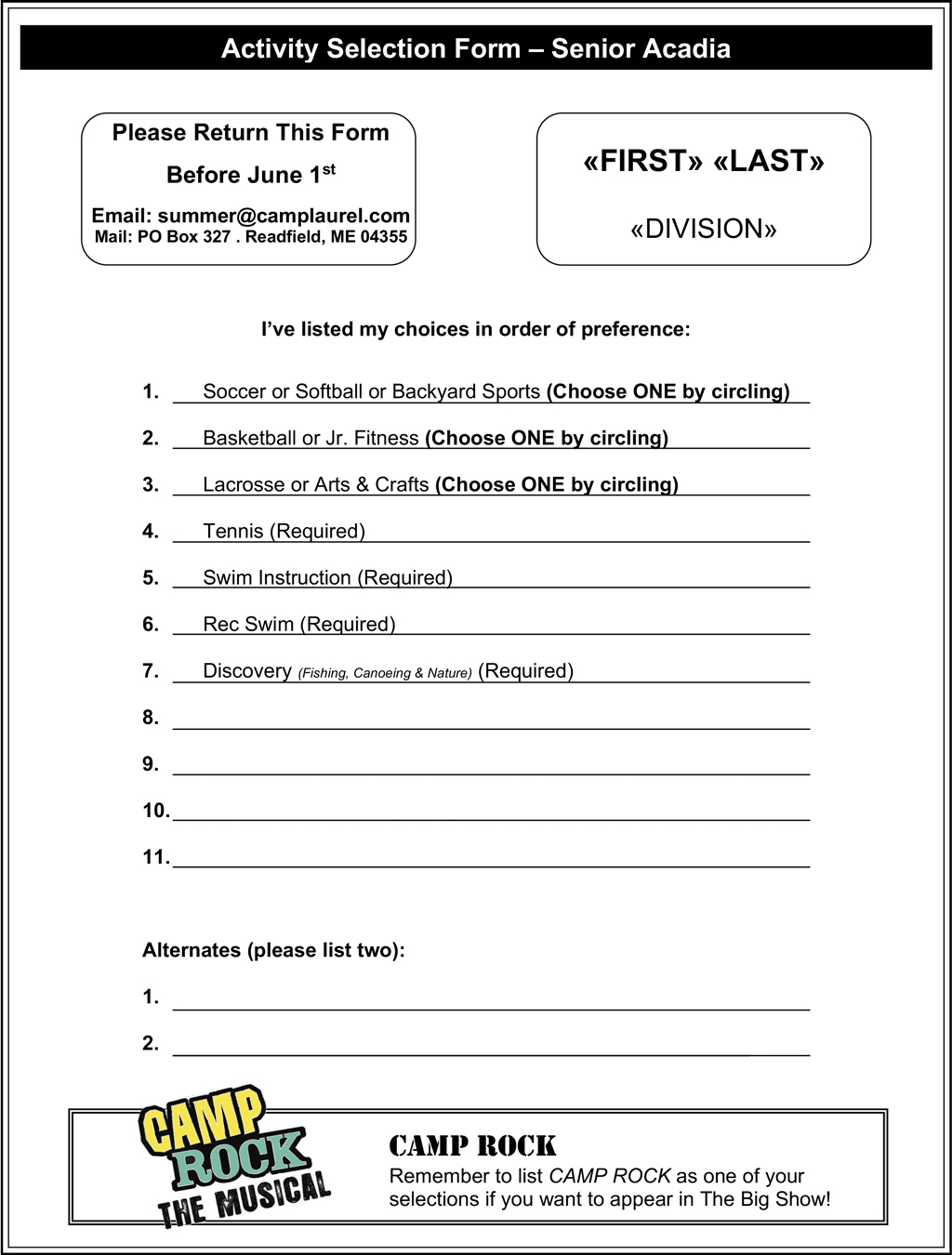 Junior Baxter
Girls completed 5th grade
Activity List
Sample Schedule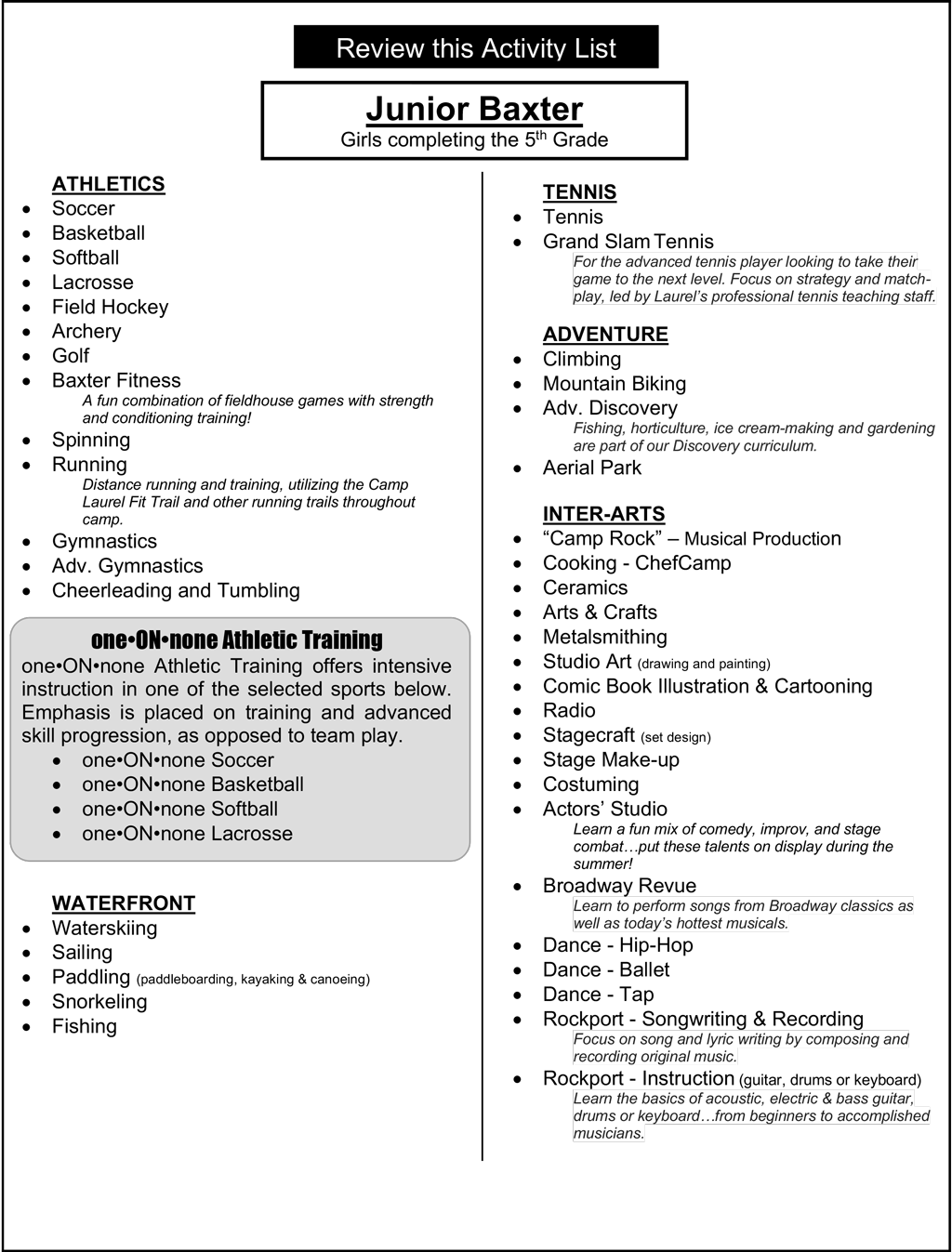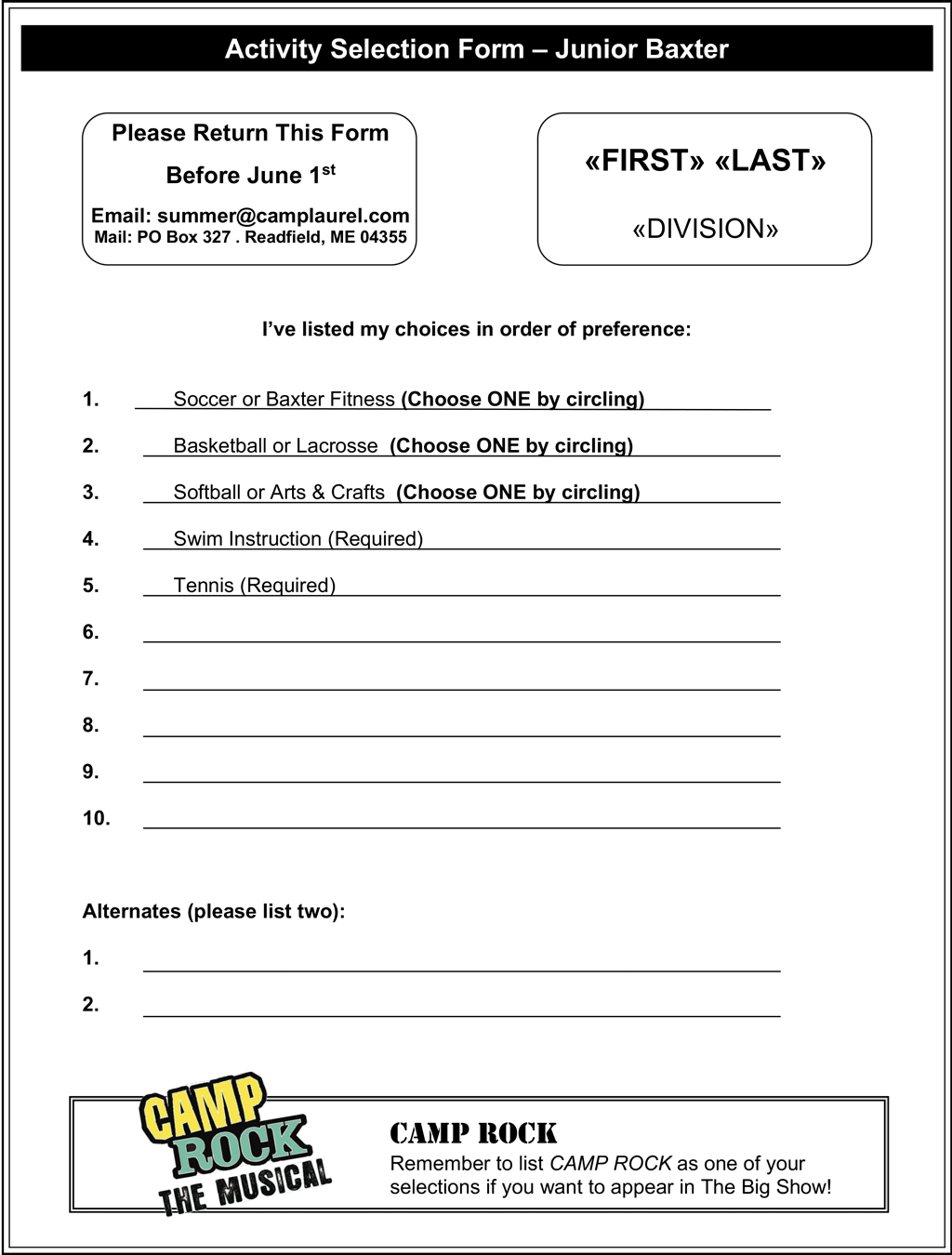 Senior Baxter
Girls completed 6th grade
Activity List
Sample Schedule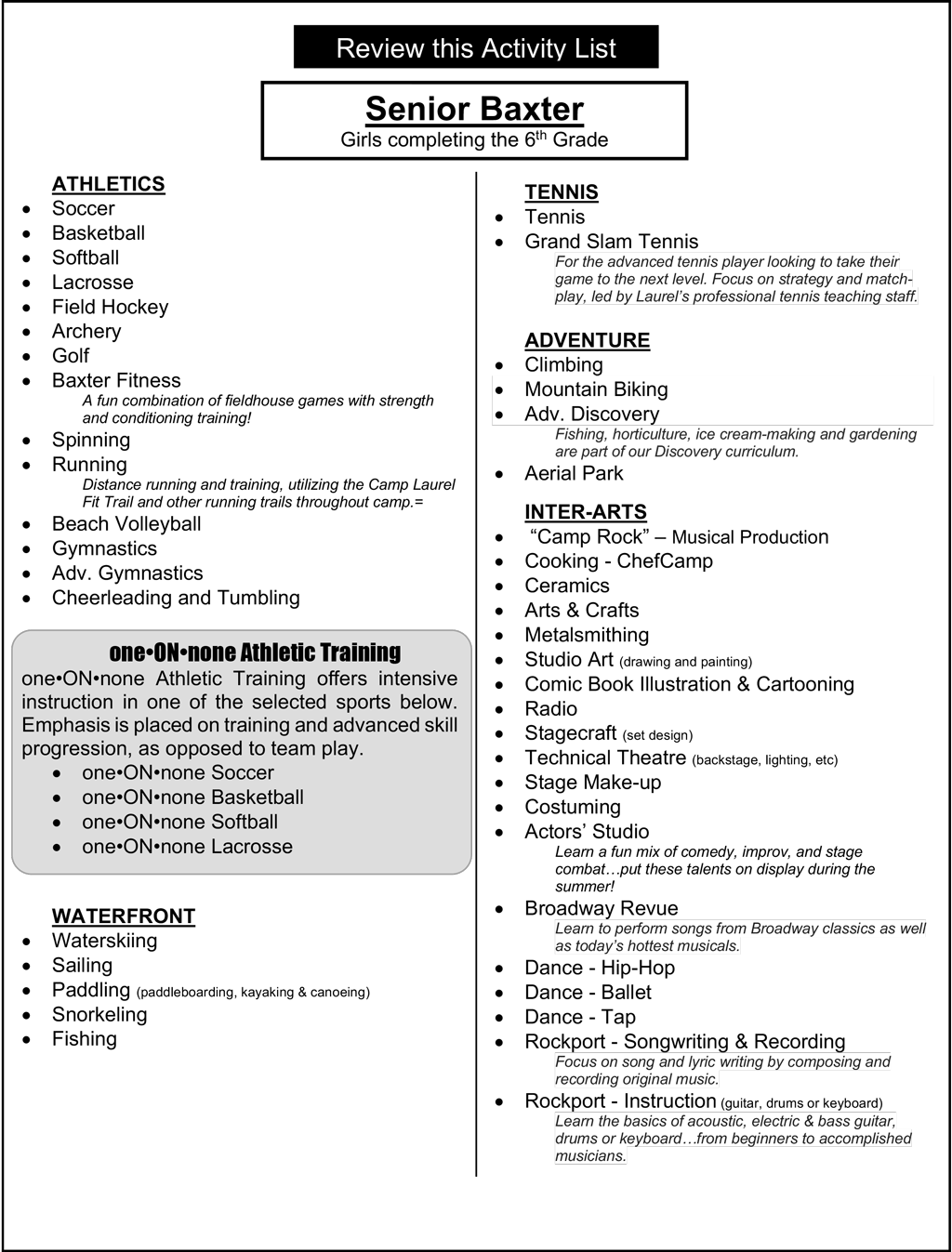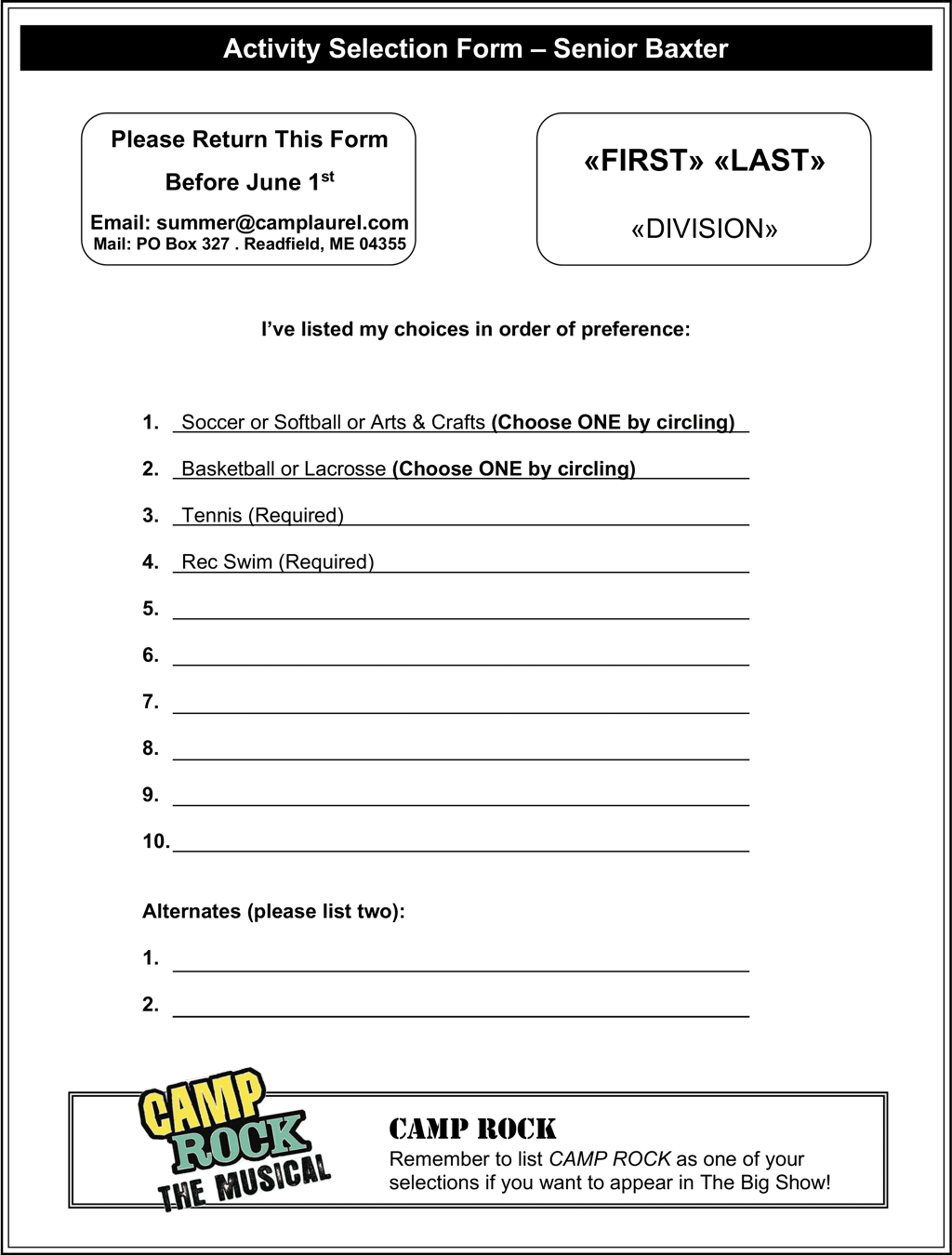 Kennebec
Girls completed 7th, 8th, 9th & 10th grade
Activity List
Sample Schedule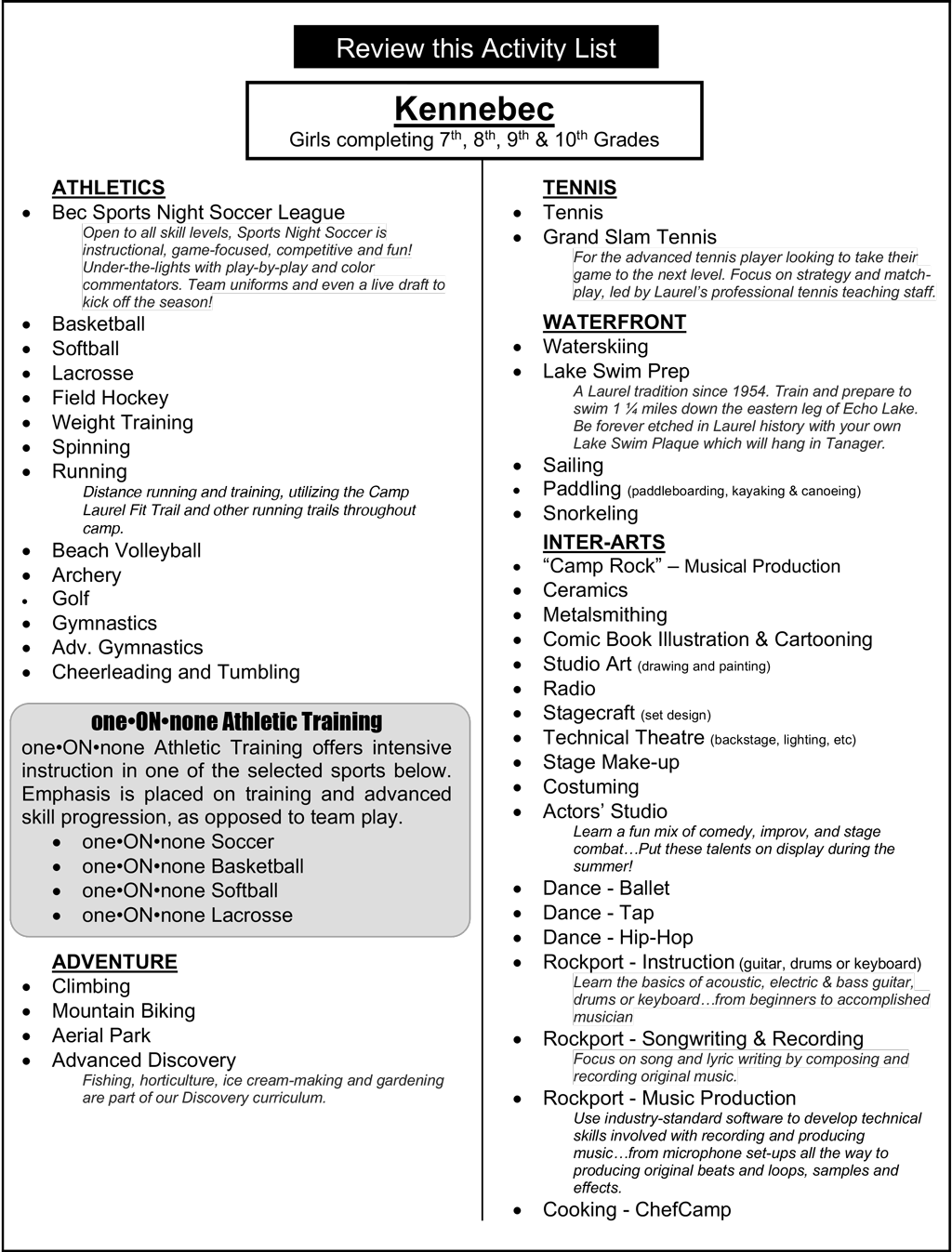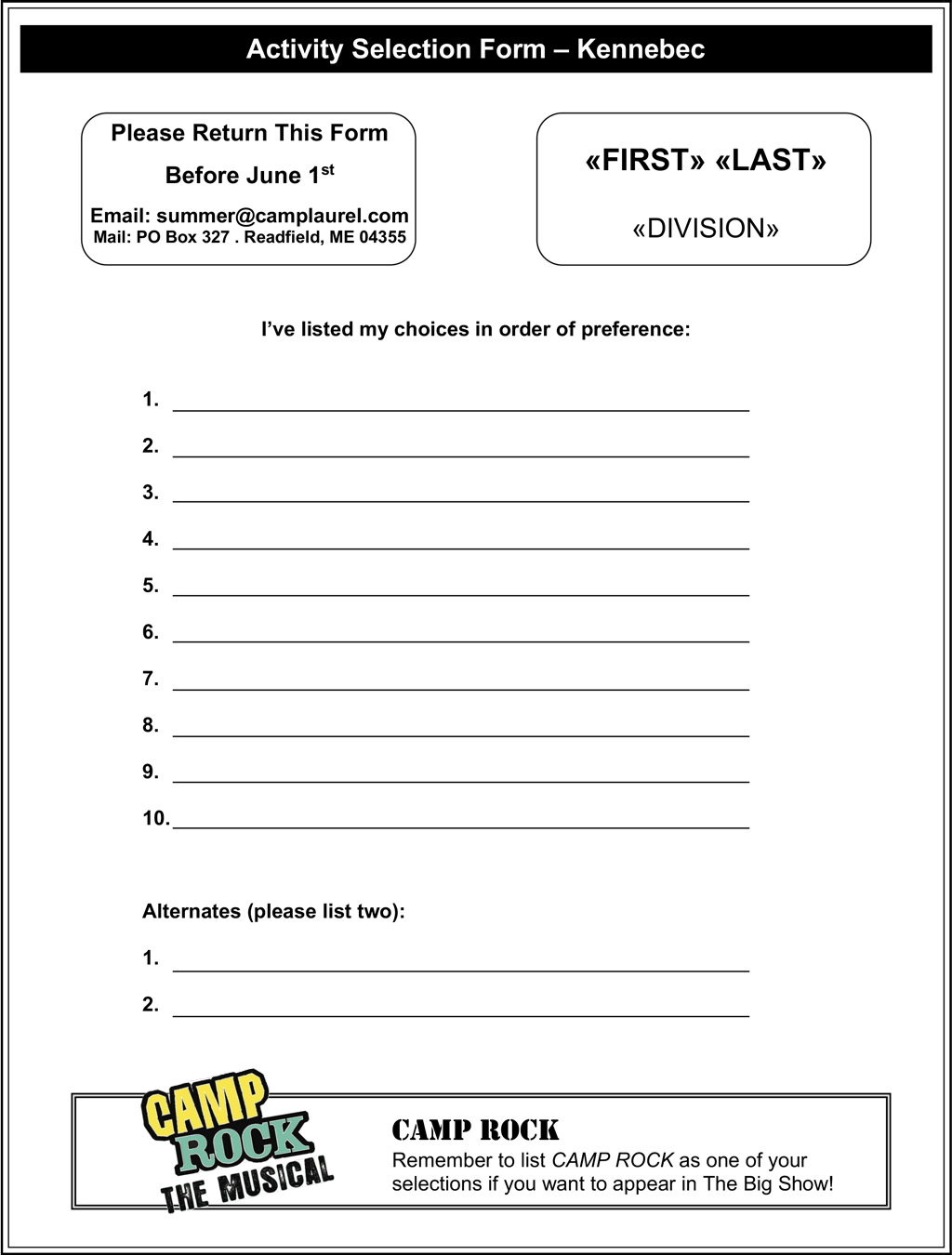 How do the "Required" Programs work?
All campers, 1st grade through 6th grade, are scheduled for the following requirements which continue all summer on a rotating A-B Day basis, every other day. If your child would like to participate in one of the required activities below every day, he or she may do so, by listing it as one of their "electives." While the specifics vary by age, the requirements for children 1st – 6th grade are:
Swim
Tennis
Campers Will Pick 2 of 6 Below

Basketball
Soccer
Lacrosse
Baseball (for boys) or Softball (for girls)
Arts & Crafts
Backyard Sports

Discovery (Fishing, Canoeing, Nature)
How do the "Elective" Programs work?
Electives are designated by age group and campers and parents make selections based on their personal interests and desires. The electives are selected for the first half of the summer and continue on a rotating A-B Day basis. Electives do not change on a daily or even weekly basis. Electives occur every other day for three weeks, allowing for continuity, skill development and a pre-planned curriculum. After three weeks, campers re-select their electives with the guidance of a staff member for Second Rotation, or remaining three weeks of the camp season.
What if I want to try something just once or twice?
There is opportunity for campers to "try out" something they may not have selected as one of their electives.
What about Waterskiing, Wakesurfing and Wakeboarding?
Campers may Waterski or Wakeboard every-other-day of the summer if they so choose. All campers who select Waterskiing will definitely receive it on their schedule. No one is "closed out" of Waterskiing.
What about extra instruction in the sports I love?
Campers who desire more of an intensive program in team sports may participate in our One-On-None Skills program. One-On-None is a highly focused and individualized, small group instructional program, often selected by campers interested in participating on their Middle School, Varsity or Premier Club or Team.
What about extra Tennis?
Our Tennis program is extraordinary. All campers, 1st through 6th grade, are scheduled for Tennis every-other day of the summer and if desired, may also select Tennis as an elective so they play every day, or even multiple times a day as they get older. In addition, we feature Grand Slam Tennis for the advanced player looking to take their match play to the next level.
What is ChefCamp?
ChefCamp is Camp Laurel's own "culinary arts camp." Developed in 2012, ChefCamp is a 3,000 square foot facility where, under the guidance of highly trained chef educators, campers participate in an intensive culinary curriculum.
How's the Riding Program?
Camp Laurel's Equestrian program is second-to-none. With 20 horses (some owned by camp) and our NCAA equestrian coach, campers who have never ridden are safely exposed to this exciting sport. Campers who are more experienced are challenged and continue to progress through the summer. Many of our campers ride throughout the year and some compete on local and national circuits. Beginning riders also thrive within our Equine Program.
What is Rockport?
Rockport is Laurel's fully integrated and digital 1,800 square foot music and recording studio. It consists of separate studios for drums, guitar, keyboard and a vocal booth, as well as a MAC digital music center. Instrumental instruction as well recording and song-writing are focal points of this exciting program.