Working at summer camp is a rare opportunity to reach your full potential as you help others reach theirs.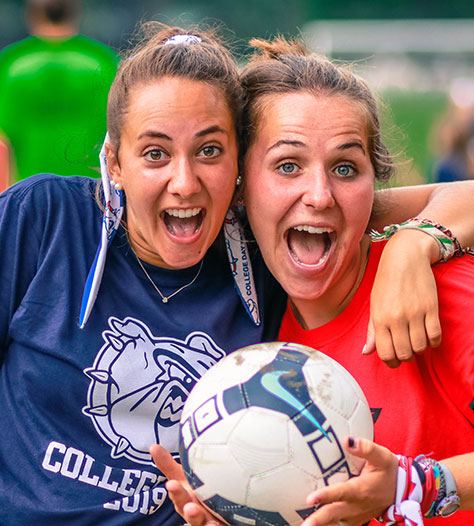 History
Camp Laurel, a coed summer camp in Maine for boys and girls, was founded in 1949 and has been in continuous operation ever since. Its original site was at Lake Awosting, New York, and since 1965, has maintained its home at its current site in Readfield.
Location
Camp Laurel is located in the heart of Maine's Central Lakes region, 17 miles west of the state capital of Augusta. The camp has 160 unspoiled acres of woodlands. Its 2000 feet of shoreline along sparkling Echo Lake features access to more than three miles of exceptionally clear waters. The area is famous for sunny, warm days and comfortable evenings.
Campers
Each year, Camp Laurel welcomes 250 boys and 250 girls from all over the United States as well as a few foreign countries. The campers range in age from 7 to 16. The return rate for campers is excellent. Many campers follow older brothers and sisters to camp.
Aims & Goals
Sending a child to summer camp is a tremendous act of faith by parents. At Laurel, we take that responsibility very seriously and maintain an environment that encourages both safety and health and reinforces a positive self-image. We aim to provide campers with opportunities for emotional and physical growth, encourage their natural abilities and instill the benefits of group living. Our ultimate goal is to provide an enjoyable, exciting summer experience that motivates our campers to approach the future with courage, confidence and a feeling of self-worth.
We create a warm, family feeling at Laurel in a number of ways. We limit camper enrollment; encourage continuous skill development throughout the summer; stress personal development no matter what the inherent ability of a camper may be; and work to create an atmosphere of attention and care for the individual.
Our Program
Camp Laurel's program is unique in that it offers campers a certain amount of freedom in selecting activities. There is a "core" program of swimming, tennis and team sports in which all campers participate. After that, campers select and focus on activities of their choice. It is possible for a camper to specialize in several activities throughout the summer, such as tennis, waterskiing, theatre, hockey, studio art, etc.
The scope of our program recognizes the individual needs and interests of the campers. We avoid a very intense atmosphere, but have an extensive inter-camp and tournament program for campers desiring more competitive athletics.
Staff Requirements
Each year, the Camp Laurel team is chosen from students, graduates and faculty from schools and colleges throughout the United States. We seek people with personality, character, stability and warmth. Most importantly, we look for staff members with a sincere desire to work and live with children. Our camper-to-counselor ratio is better than 3:1.
Staff Recreation & Time Off
Camp life is structured and demanding. A high energy level is important for a successful summer. We want you to be enthusiastic and happy about your work and recognize that you need some time off for rest and relaxation. In addition to regularly scheduled time off, camp facilities are open to staff in the evening when not in use by the campers. A staff-only lounge is open every night. The lounge is fully-equipped with internet and TV. A modern Fitness Center is also available each evening for counselors. For those interested, there are regularly scheduled staff games under the lights in volleyball, soccer and basketball. We have regular trips to Augusta and provide transportation on days off.
Helping You Get Started
It's not easy to adapt to a new situation, even if you are an enthusiastic person. We make the transition for you as easy as possible with a good deal of training and support:
A one-week staff Orientation prior to the campers' arrival allows the chance to get to know your fellow staff members as we prepare for the summer. We use a variety of formats to acquaint you with situations that will arise during the season. By the end of Orientation, you'll have a good view of our perspective on camping and our expectations.
Staff meetings are held regularly in small and large groups to enable us to communicate freely and discuss issues and areas of concern.
We have an open-door policy at camp. You are welcome and encouraged to approach the head counselors or directors with any of your concerns.
For more information – please email us at staff@camplaurel.com