Apache
Will Shaw
Campus Leader
New Canaan, CT
Will returns for his seventh summer to the helm of Apache. A Campus Leader for five summers, Will played football all four years at Wabash College. A three-year teacher and coach at New Canaan Country Day School in Connecticut, Will is moving to a 3rd grade teaching role after summer. No one goes bananas quite like "Meester Shaw!" Will is a true camp favorite!
Jay Herazo-Vargas
Super Senior Head
Islip, NY
Jay's back for summer #3 on Echo Lake! He captained his varsity soccer team at Wells College. Currently working on his master's of social work at Marywood. Jay coached soccer clinics and day camps before joining the Laurel family as an Apache Specialist. The perfect fit for our Super Seniors!
Sequoia
Jared Burris
Campus Leader
Indianapolis, IN
A Laurel veteran and another true camp standout, Jared is back for summer #6. Four year cross country and track and field athlete at Wabash College. Received many accolades including a conference championship, all-region selection and the mental toughness award. Jared, a Campus Leader in 2016 and 2017, is making a triumphant return to Sequoia after running Laurel Fitness in 2019 – and we couldn't be in more capable hands!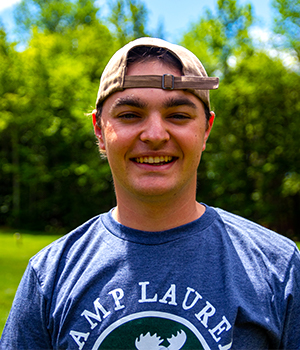 Jake Siegel
Asst. Campus Leader
Kirkwood, MO
A hockey counselor in 2019, Jake joins the Campus Leader ranks in 2021. Graduate education major at Mizzou. Jake captained his varsity ice hockey team throughout high school. Avid golfer. Sister, Abbey, joins Jake in Maine for her first Laurel summer as an Acadian Specialist. Jake is ready to rock in Sequoia! Welcome home! Jake's the man!
Bago
Ben Hartmann
Campus Leader
New York, NY
Ben's back for summer #7 and his third as Bago Campus Leader. A University of Oregon graduate, Ben was student manager of the Ducks men's basketball team and earned his graduate degree while being an assistant basketball coach for Florida A&M Basketball. Currently a Learning Specialist at The Dalton School in NYC, Ben has also thrived as Basketball coach for Dribbl. He's coached all levels of basketball through Nike iHoops – from elementary to Division 1 players. We're so excited Ben is back to lead our oldest boys! A true Laurel mainstay!
Zek Back
Asst. Campus Leader
Dayton, OH
A University of Toledo senior, Zek has years of experience teaching swimming and climbing. All-star climbing counselor in 2019. He plays club lax at Toledo and participated in the junior Olympics and US Nationals as a swimmer. Pumped to have Zek moving from Sequoia to the Bago leadership team!
Mitch Siegel
Super Senior Boys
Windermere, FL
Stefan Borowski
Super Senior 2020 Director
South Norwalk, CT
Assistant athletic director and head soccer, basketball and lacrosse coach at New Canaan Country Day, Stefan is back for summer #10. Stefan is a true Laurel veteran and has the rare distinction of working on the Campus Leader team for all three age groups. He played collegiate soccer at Denison University. Stefan is the perfect fit to lead our 2020 Super Seniors.