The last thing children are thinking about as they are running, dancing, jumping, singing and playing at camp is what they want to be when they grow up. But parents of Camp Laurel know the things campers experience and learn can directly impact the adults that they become. Spending a summer at camp fosters valuable life skills in campers that prepare them to enter the professional world.
Teamwork
One of the biggest benefits of camp is that campers learn how to work together as a team. Counselors lead by example and demonstrate practical communication skills, compromise, and listening skills. Campers learn to trust and encourage each other. Campers who feel confident working with others at camp build a solid foundation for teamwork in the workplace.
Time Management
Time management is another important skill campers learn without even realizing it. With a variety of activities available for them to try, campers are responsible for planning their day so they get the most out of each activity. Campers – with a counselor's help – learn to factor in things like travel time between activities or how much prep time is required between events. Learning the importance of being on time or early will help campers be successful in the real world. They're also given opportunities to extend grace and courtesy to those who are running behind, and taught to exercise patience when things don't always go according to plan. Campers learn to be flexible and understanding, while also learning how to prioritize important events during their daily routine.
Organization
For many campers, camp is the first time they share a private space with a group of people they don't know. They quickly learn to organize their personal belongings in a way that makes them easily accessible and out of the way of others. Campers keep their personal space neat and tidy, and are respectful of the people who share their space.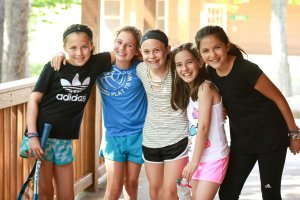 Learning how to be organized at camp can directly transfer over to being organized at home and in future professional environments.
Spending a summer at camp is one of the best things you can do for the future of your child. It's a fun way to build character and prepare children for the real world. Campers learn valuable life lessons on a daily basis at camp, all while having the best summer of their lives. Camp counselors focus on developing the whole camper, and embrace the opportunity to prepare each camper for success. When they eventually enter the workforce, campers will be prepared with the confidence and skills required to be successful.