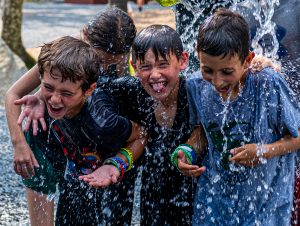 At the end of every summer, I can't stop talking about camp. The stories are endless, and it's impossible not to share them. The anecdotes are often specific enough to qualify for 'you had to be there' moments. From grand events like the break of College Days to tales of campers realizing their goals to the crackle of a mid-summer campfire. There's something special happening every hour of every day.
We often remind our counselors "Little moments have a big impact." And that's true. Like how a camper created a song and it became a year-after-year tradition. Or how a staff member turned brushing teeth into a game that campers would look forward to each morning and night. Stringing the anecdotes together paints a bigger picture of Laurel: a camp becoming a community. Campers who two weeks prior were strangers begin to function like a family. Campers who have been together summer after summer (after summer!) start appreciating their amazing time at Laurel in a new way.
In between the stories I tell, I realize how gratifying the larger dynamics of camp are. And it makes me even more eager for the upcoming inside jokes, anecdotes and another summer in Maine!