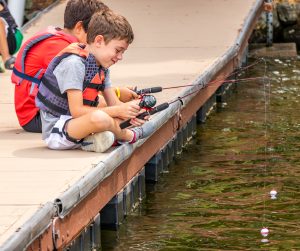 One of the best parts of camp is the combined sense of newness and familiarity. It's refreshing to have a change of pace and simultaneously comforting to be back at our home away from home. The benefits of camp are endless: community, independence, friendship, learning new skills and personal growth are a few of my favorites. But there's something unique about spending the summer in Maine.
Fresh air, endless trees and sparkling Echo Lake: Maine is one of the most beautiful places in the country. Forest views are a welcome substitute to big city skyscrapers and suburban roads. Screen time is replaced with games on green fields. Exploring by bike, canoe or on foot gives everyone a greater appreciation for the surrounding nature.
Campers and counselors – when reminiscing about their summers – mention the community, the activities, the special events and the beauty of Maine. They picture themselves laughing with friends, paddleboarding on Echo Lake, and taking in the crisp air. They remember their place in Maine and can instantly be filled with joy, peace and a longing to return. And that's the way camp should be.