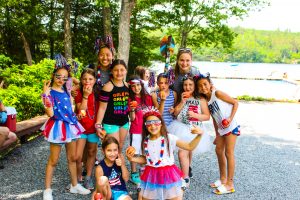 We hope everyone is excited to celebrate Halloween safely. It's always a fun time of year to see amusing costumes. At camp, we're able to show our creative side when it comes to face paint and wacky outfits. Camp is one of the best places to show your spirit. And there are ample opportunities for it: popping on the tie-dye you just made with your cabinmates, putting together a themed ensemble for socials or rocking your College Days colors.
One of the foundations of camp is providing a space for campers to feel comfortable expressing themselves. It's a place where we're never too cool or too old to have fun. Perhaps the best part of dressing up at camp is the ability to plan it out with your closest friends. The enthusiasm while planning makes the event better!
Crazy hair, ridiculous costumes and face paint all encourage creativity. And it's nearly impossible to get ready without also sporting a smile. From Laurel Spirit Day to Red, White and Blue everything on July 4th; the expressiveness of our campers and counselors is always a joy to see!