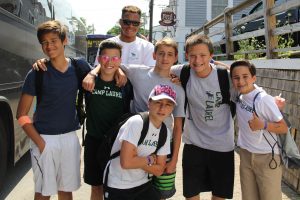 With Visiting Day behind us, we're reignited for the next three weeks of camp and they are chock-full of program, activity, specials events and trips. Our Bec and Bago campers have all departed on their Extended Trips and are having a blast. These trips are a great way to break up the summer and give our oldest campers a brief "teen travel experience." They are always a summer highlight.
In Readfield, the four lower campuses have the "run of the place" and are taking advantage of every part of camp. We have an incredible week planned for them including the 2016 Olympics, VIP Nites, Dinner Parties, Twilight Waterskiing, Skills Clinics and more.
While there's only three weeks left of camp – there's still so much to do. In every department around camp, skills are being honed and projects expanded upon. Cabins are functioning at their highest levels and friendships are abundant everywhere!! We love watching the relaxed and comfortable interactions between cabinmates who reunited four weeks ago after ten months away – or met for the first time in late June. It is, of course, the essence of what makes camp… camp.