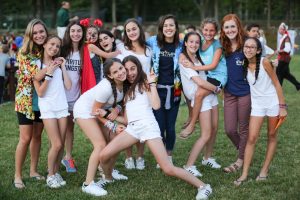 While the daily program at Camp Laurel consists of six periods and is highly structured, we're also a camp which loves spirit, spontaneity and flexibility. Once every five days or so, we take a break from our active program for S Days (Special Days.) S Days are trips days, special events days or tradition days. And at least once a week, we have an all-camp event when, regardless of campus, we come together for a fun, recreational and exciting event that breaks up the camp week and brings the whole Laurel Family together. Often, siblings, cousins, friends and neighbors across campuses join together for a special activity. Yesterday, it was our Carnival.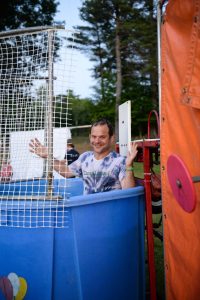 Carnival has been a camp tradition for 40 Camp Laurel years. Our annual Carnival starts at 4:30 in the afternoon and goes until 8:30 at night. We start with a great lakeside cookout (burgers, corn dogs, chicken, salad, pizza, fresh fruit and watermelon) and then we head up to the Blast Bounce Rides.
In addition to the rides, there are booths and games with everything imaginable: Face Painting, Mime, Photo Boots, Fortune Telling, Human Slot Machine, Smack The Rat, Plinko, Marriage Booth, Mini Golf and more. There are dressed up characters and "carnies," And this year, we had a special treat of bronzed, moving statues.
Of course, there's the ever-famous Fried Dough truck with all kinds of toppings and plenty of water and Powerade to wash it down.
We love Carnival…and we love the fun and games of our weekly S Days.