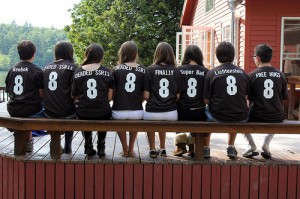 If you have children who attend sleepaway camp, work at a sleepaway camp, or know anyone who attends or works at a sleepaway camp, chances are that you've heard this at least once in your life: "It's a camp thing." For those of you wondering what that means, here's an exclusive look inside the world of sleepaway camp and exactly what constitutes "a camp thing".
We'll begin with a definition. "A camp thing" is an experience or tradition that is unique to summer camp. It's also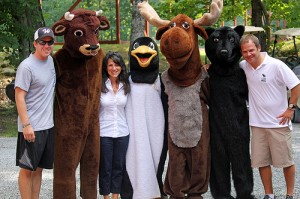 actually "camp things" rather than a singular "thing", since there are a host of experiences exclusive to the summer camp environment. For instance, have you taken part in a competition, spread over several days, that divides the entire camp into two teams and requires contestants to do such things as cover their heads with shaving cream so that a teammate can attempt to make cheese curls stick to it, dress in team gear that includes crazy garb such as tutus, mismatched socks, and face paint, or passed buckets of water down a line in a race to see who will fill their container first? Nope? Do you know why? It's "a camp thing". Ever sat alongside several hundred other people around a campfire while you watch friends and staff members perform crazy acts, sing songs or participate in games? Nope? Yeah…it's another "camp thing".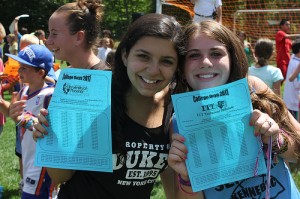 In case it's not obvious, "camp things" happen every day at camp, from that first moment when you get off the bus and see your camp friends and your new counselors holding your cabin signs for the first time to the last when you're saying 'goodbye until next summer.' Camp things are being part of a league sports team, whether it wins or loses, going on a special trip out of camp to get ice cream, performing rituals and eating s'mores around a campfire, sitting with your friends at cookouts, taking part in the traditions that are unique to each and every summer camp, and understanding the feeling of being part of a camp family. Camp things are having sleepovers with your cabin or having a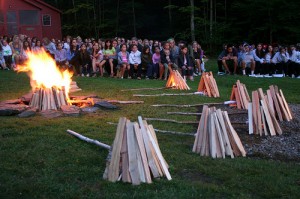 venue in which you and your camp friends can pretend to be a rock band, DJs, or magicians. Camp things are that special inside joke that your friends share all summer, end-of-the-summer trips out of camp, sing-a-longs when you're arm-in-arm with your camp friends. And hugging some of your best friends while singing your camp alma mater and watching candles burn or fireworks explode, knowing that you might not see them again until next summer, is definitely the most precious of "camp things". If only everyone could experience "a camp thing"…