The seven weeks we get to spend with campers each summer is precious. It's an opportunity to build character and boost confidence. We have the opportunity to be the backdrop for millions of memories and connect people who can grow to be lifelong friends. In today's world, the pressure to succeed at all costs seems to have become the focus, more so than the ideals that promote kindness, empathy, moral compass and self-assuredness.
At camp, children are guided to solve conflict through understanding and compromise. They learn that differences of opinion can be discussed without resentment or anger. Campers learn to talk about their feelings and truly understand the feelings of others. We tell our campers that not everyone will be your best friend, yet we treat everyone with kindness and respect. These are values that will serve them well throughout their school years, in the workplace and in their communities.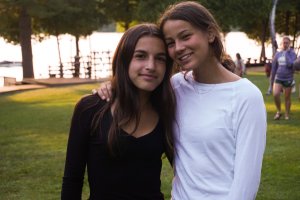 At camp, each camper has a story to tell. Each child arrives at camp with a history, a background, baggage (no pun intended), fears, strengths, and perceptions. As campers begin to integrate with each other, they quickly see how different they all are, but how those differences don't need to divide them. There is no "us" and "them" at camp. We are intentional about fostering a generation of helpers, includers, and givers. We know that if we want a world full of people who care about each other, who don't judge each other and who seek out opportunities to make others feel good, we have to start with the kids.
Campers return home with more friends, improved skill-sets and a lot to talk about. But our goal is that each camper leaves camp with stronger character, and that we can instill basic morals and ideals that will help them become better students, siblings, friends, and eventually, adults. Camp is safe, camp is fun, and camp is designed to better the lives of campers and their families each summer.