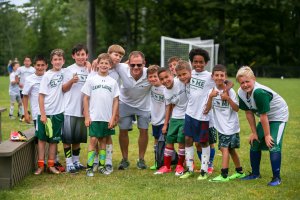 Camp is the perfect place to be wacky, goofy and enthusiastic about everything. No one ever wants to "kind of" do something at camp. Camp is an all-in environment. Here's a list showing there's no such thing as "too much" at camp:
Laughter
While it's always impossible to laugh too much, this especially rings true at camp. Whether it's over an inside joke with your cabinmates or one of your favorite counselors doing something goofy on stage in front of the whole camp, laughter's a camp constant.
Cheering and Singing
There's no place where cheering is more prevalent than camp. Cheers are heard at sporting events, as a show of camp unity, at meals (Go Bananas!), even when Dirt Cups are rolled out. At camp, even the smallest moments are immortalized in song and cheer!
Spirit
The Laurel spirit goes beyond giving it our best effort on the field. Camp spirit is about community; from the friends in your cabin, to the counselors and Campus Leaders, all the way to Jem and Debbie and the rest of the administration. Enthusiasm and spirit can be seen on the basketball court, but it's equally tangible at a rocket launch, theatre show, birthday party, and more.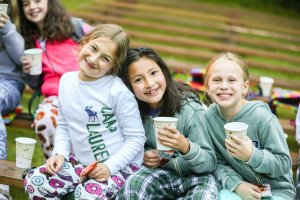 Camp
At Camp Laurel, there is no such thing as too much "camp." That's why most campers and counselors can't help themselves from telling camp stories during the off-season. Campers and counselors agree life would be so much better if "10 for 2" was actually "2 for 10."