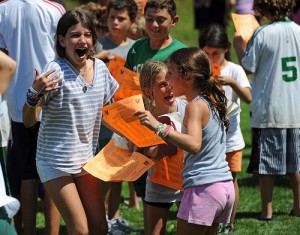 Routines. Everyone has them. For some, they encompass everything that takes place from the time we wake in the morning until we go to bed at night. For others, they come in short bursts throughout the day, such as at mealtimes or bedtime. However, establishing routines as daily parts of our lives is important, especially for children. Childcare experts agree that establishing regular routines for children is essential for healthy development. The Center on the Social and Emotional Foundations for Early Learning reports that "Studies have documented that schedules and routines influence children's emotional, cognitive, and social development."
It's no secret that summer camps provide loose routines that allow room for healthy creative development through structured daily programs and schedules that maintain consistent meal, activity, and bedtimes. Maintaining a routine throughout the summer is also valuable in easing the transition from summer to fall and back into summer again. However, one special aspect of summer camp that is often overlooked is that it helps children learn to understand the difference between routine and ritual—what makes one necessity and the other tradition.
Barbara H. Fiese, Ph.D., Syracuse University, defines routine as something that "involves a momentary time
commitment so that once the act is completed, there is little, if any, afterthought." However, she defines ritual as "symbolic communication" that has "continuity in meaning across generations." Rituals take place within the home family setting. However, for children, it's not always clear how to tell the difference between what is done simply to be done and what is done because it's significant to their heritage. This is where the summer camp ritual takes on a special significance. Even executives such as Michael Eisner have publicly recalled the important role that summer camp rituals have played in their lives.
Summer camp often draws a distinct line between routine and ritual. Campers understand, for instance, that cleaning their bunks or cabins everyday is part of a routine. That following an activities schedule is part of routine. That hearing TAPS in the evening to signal bedtime is a part of routine. They, too, understand that campfires, however regular, are rituals. They are more than just a fire that they gather around to eat s'mores. Campfires have meaning that goes far beyond the fire itself. The same can be said about opening night shows, closing, and fireworks. Campers understand that these are not just routines done merely to achieve a goal. They're rituals that make their summer camp the place that it is and them a part of it.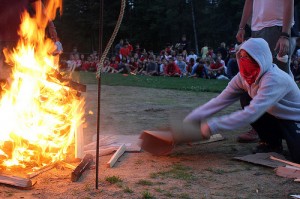 By being able to tell the difference, children are able to accept routine as something that needs to be done and prevent rituals from simply becoming routine by understanding the value in them. Dr. Fiese says that children will often revisit memories of rituals in order to "recapture some of the positive." experience." This perhaps explains why so many camp rituals remain sacred to campers far passed their camping years. Some of America's Finest Summer Camps' rituals hold special significance for campers and staff members: coves, campfires, flagpole nominations, opening night shows, banquets, competitions, and other activities that bring them together. At Camp Laurel, Coves are definitely an important tradition and time honored ritual:
"Coves" are an important and exciting camp tradition at Camp Laurel. Each day begins with a Morning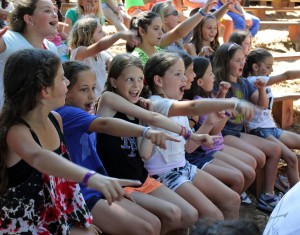 Cove at a campus "Cove site." Each group meets at their own Campus Cove location, where the Campus Leader reviews information for the day: special activities, upcoming inter-camp games and tournaments, birthdays, cove-calls, cheers, sports scores, and many other special announcements. Each Campus Leader has his or her own style and flair which makes each morning Cove unique and fun. Cove is always a special time for the campers and staff and a great way to kick-off the camp day.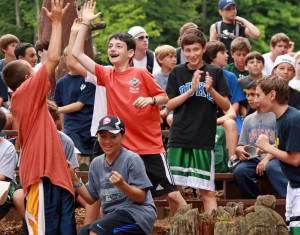 Every night…just after dinner…the entire Camp Laurel family gathers for Evening Cove, led by our director, Jem. Evening Cove takes place at the Main Cove area, just above the magnificent shoreline of Echo Lake. Evening Cove has been taking place at this very site since the first campers came to Camp Laurel six decades ago. Evening Cove is great: Campuses may have a cheer to present…a birthday may be celebrated…Inter-camp results and special achievements or accomplishments are recognized…Evening programs are reviewed…special accolades are shared…Whether in the morning or evening, Cove is a coming-together, a celebration and recognition of how lucky we are to be at Camp Laurel in the beautiful state of Maine!!!