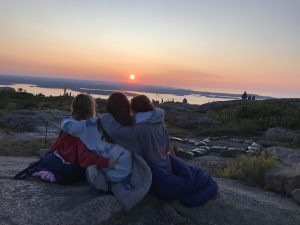 At Camp Laurel, campers develop in a myriad of ways. Campers may come to camp eager to work on their backhand in tennis, their chords in guitar, their skills as a goalie. They automatically get the intrinsic benefits of living at sleepaway camp: social-emotional development, lifelong friendships, confidence and staying active. At times, however, Outdoor Adventure can be overlooked when evaluating camp's impact. This program is just as beneficial for campers as everything else at Camp Laurel.
Outdoor Adventure creates self-reliance. Campers learn to trust themselves and expand their capabilities. Reaching the top of the climbing wall for the first time is exhilarating. Campers learn to overcome their fears. Going on hikes throughout Maine's beautiful local, state and national parks opens up a whole new world for many of our campers.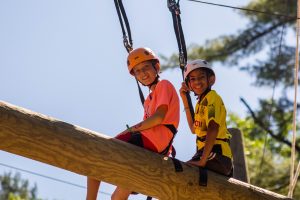 Outdoor Adventure also focuses on teamwork rather than competition. There is no 'beating' the other team. Everyone cheers when someone learns to ride a bike or conquers the Aerial Park. Whatever new challenge captures a camper's imagination, they will leave that activity with a sense of empowerment. Perhaps the most important aspect of Outdoor Adventure is the 'outdoor' side of things. Campers love feeling the crisp breeze through the Maine trees. The raw experience of being in nature make seemingly simple activities – like hiking and camping – memorable. Particularly for campers coming from cities or suburbs. And the best part? Campers are creating and sharing those memories with their closest friends.