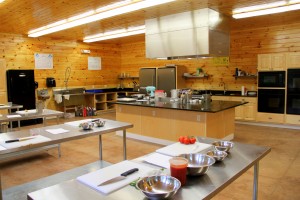 One of the perks about sending your child to Camp Laurel is that a good chef may return home to you. Your child who only knew how to make a sandwich or had no idea how to boil water may come back as a baking, sautéing foodie who has a newfound appreciation for seasonings, sauces and the magic that can happen in the kitchen. This transformation begins when campers take advantage of the ChefCamp program at Camp Laurel. ChefCamp is led by our Head Chef and specialists who have a wealth of experience. The incredible, fully-integrated culinary center at Camp Laurel gives campers the tools, appliances and space to create their favorite dishes and learn a few new ones.
Encouraging your child to explore their culinary side not only ensures you'll get to try some of their creations once they return home, but also teaches them valuable life skills. Cooking is not just throwing ingredients together and waiting until it's edible. Cooking is an art, and a way for aspiring chefs to express themselves. The thought, preparation, and emotion that goes into cooking is something many children find challenging but rewarding. They learn valuable skills such as time management, following directions and communication. Cooking also perfects math and science skills in a way that is fun and different.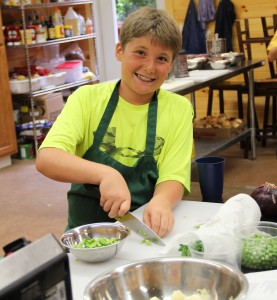 When your child is able to start and finish a project in the kitchen, their self-confidence grows and they become more self-assured and willing to try new things that seem out of their comfort zone. When they are active in the kitchen and learn about the things that go into their food, they are also learning about making healthy choices when it comes to what they eat.
Cooking gives children a sense of purpose and something they feel they can contribute to the family. Once a camper's family takes a bite of their famous mac and cheese or savory French Onion soup and can't get enough, they'll feel that they have a valuable quality to contribute to family functions. Even if they just learn basic cooking skills, the importance of cleaning up after yourself and how to measure properly, they will be ahead of most of their peers.
Whether your child is a chef-in-the-making, or is just starting to show interest in the kitchen, ChefCamp is a great way for kids to explore culinary arts.