There is something about singing that brings people together. Perhaps that's why singing (and music in general) is such an important part of camp. The silly or sometimes sentimental words of a "camp song" can set a mood, evoke a feeling, and create atmosphere. Music is a universal language that everyone understands. Perhaps this is why so many American summer camps open and close their summers with sing-alongs. Sing-alongs are fantastic ways to say both "we're together again" and "until next time."
Ask campers to name some of their most favorite moments of summer camp and, most assuredly,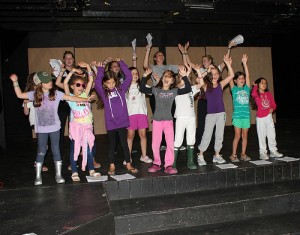 they'll name more than one that involves singing in some way…that first exciting night of camp, campfires, zany and often spontaneous dining room rituals, fun times with fellow campers and counselors inside the bunk, and saying goodbye at the end of the summer. More importantly, ask any current or former camper to sing his camp alma mater and he'll do it as if it's second nature. The words of a camp's alma mater are magical—a way to instantly transport one back to camp and those summers filled with fun and friends.
Many parents say that their children even sing camp songs constantly throughout the winter as a way of remembering their time at camp. Some of them even admit that they can't resist the temptation to join in.