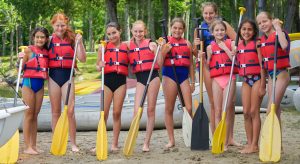 Chelsea takes the subway to school every morning. Justin spends his weekends hanging out downtown with his buddies. Evan can walk to movie theaters, restaurants and museums from the apartment where he lives. These city kids spend most of their year surrounded by concrete, honking horns and tall buildings. And that is why they, like so many other kids from big cities, really look forward to coming to camp for a change in their environment.
Camp Laurel is located in some of the most beautiful surroundings in the country. Tucked away amongst tall trees, a gorgeous lake and acres and acres of sprawling green fields, camp is the definition of natural beauty. When you're here, you can really connect with nature and breathe in fresh Maine air.
The lake is a refreshing place to spend the summer, whether it's fishing, swimming, stand up paddleboarding, waterskiing or sailing. The view of the lake changes throughout the day and gives off a different feeling depending on the time of day. In the morning, the lake is a quiet and peaceful place to wake up to. In the afternoons, it's an exciting water playground where campers jump, splash and play all day. And then in the evenings, the lake is a quiet and peaceful place to reflect and unwind. City kids may not get to experience such natural beauty in their everyday lives, making the beauty of camp even more special.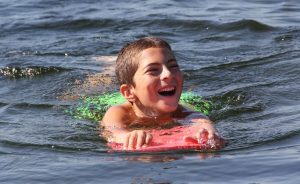 Waking up to a view of tall forest trees is a nice change for kids who are used to the hustle and bustle of a big city. The natural beauty of camp makes for the perfect backdrop to pictures that campers are sure to treasure forever. Waking up each morning and breathing in the crisp Maine air is good for the heart, mind, and soul!
Being immersed in the beauty of Maine is a welcome and unique experience. Spending the summer unplugged from technology, interacting with others and playing games fosters creativity. Once at home, campers have so many more options than their peers who are accustomed to spending long hours in front of the TV, computers and gaming systems. Campers are more apt to play outside with friends, building true relationships and getting exercise.
Camp exposes campers to things they normally wouldn't see and experience back home. They learn to find excitement and joy in nature, and it awakens something in them that the city just can't. Spending time outside has been proven to improve vision, encourage social skills, reduce stress and give kids the vitamin D that they need. Who knew spending all day outside at camp is actually good for kids?!