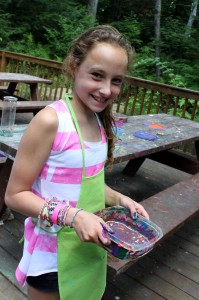 A chuckle-worthy camp confession recently spotted on Pinterest: "My wrists did not see sunlight all summer because of the bracelets." Anyone who has ever attended or worked at a sleepaway camp is all too familiar with the "bracelet tan." Of the thousands of camps across America, there is not an Arts & Crafts area that is not well stocked with beads, lanyard, skeins of embroidery floss, paracord, rubber bands and just about anything else that can be turned into a bracelet. Bracelets are BIG at camp. They're not merely wearable art. They're a symbol of friendship. Few campers or staff actually keep the bracelets they make for themselves. Instead they exchange them with friends and other special people at camp. Although people have been making friendship bracelets since ancient times, they have become a camp tradition. It's fun to conjure memories of a special person with a glance at one's wrist.
The act of making the bracelets is almost as pleasurable as the bracelets themselves. Friendship bracelets are also easy to make, and campers of all ages easily catch onto the various ways of braiding and weaving materials into fashionable designs. Friendship bracelets also appeal equally to both boys and girls. The fact that making bracelets takes very little concentration makes them the perfect social craft. It's easy to interact with others while making bracelets at camp. Bracelet making is the perfect conversation opportunity and bonding activity.
The row of bracelets is not just camp fashion, it's a storyboard of the summer that is unique to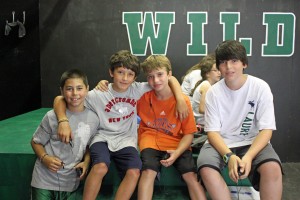 every individual at camp. It represents who they met during the summer and the special moments that have been committed to memory. One the best things about friendship bracelets is finding them tucked away long after the summer has ended, and having a moment to remember the summer and the people and stories behind each bracelet.