It's interesting how many times throughout the summer counselors are overheard beginning a sentence with the phrase 'I never thought I would…' Working at sleepaway camp is truly a collection of 'I never thought I would…' moments. All too often, those are also the remarks that speak for camp itself, because they're epiphanies from the staff members themselves. Although the "I never thought I would…' comments are as varied as the counselors, there are a few that consistently come up. From the mouths of the staff members themselves, 'I never thought I would…'
Make so many new friends
Sure, I came to camp expecting to meet a few new people. But I've made dozens of friends this summer from all over the world. I feel closer to some of them than I do to people I've known for years. I never imagined that I could grow so close to someone in just a few weeks. I've wanted to travel abroad for years, but have been scared of going places where I didn't know the language or the people. Now I can't wait to go knowing that my new camp friends are going to be there waiting for me!
Be so enthusiastic about little things
One of the most awesome things about working at summer camp is that even the smallest of details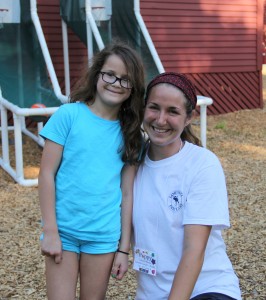 are a big deal. The campers get excited and I can'thelp but feel it too. Going to our favorite activity during the day; getting ready for an evening activity; walking into a meal and seeing that it's my favorite; telling silly knock-knock jokes in our cabin at night; and, in particular, those moments when I really connect with my campers.
Like working so hard
Camp is hard work! I start early in the morning and end late at night. It's TOTALLY worth it though! I've never had so much fun in my life. Sometimes I forget that this is a job and I'm getting paid. So much happens in one day of camp. At night, I lay in bed and try to remember everything that happened during the day just because I don't want to forget. I've started keeping a journal of my days at camp. This winter, when it's cold outside and I'm missing camp, I'm going to read it. I'm so glad I decided to work at camp instead of accept an internship. This is SO much better than an office! Now I know I want to spend the rest of my life working with kids.
Talk a camper through something difficult
There are a lot of activities at camp and some of them require courage—especially if you're a kid. I can't imagine having the guts to maneuver a ropes course thirty feet in the air when I was ten. I really admire so many of my campers for trying brave and adventurous activities. The best part is being able to give the ones who are a little scared that extra push that they need to take on the adventure. There is nothing more gratifying than a smile and a high-five from a camper who just did something they thought they never could and knowing that I helped them do it.
Live so much in the moment
At camp, it's simultaneously easy and impossible to forget about how short my time here really is.Every day just flies by, which is also reminder that the end of camp is one day closer. I find myself really wishing that I could slow down time, and I've started making an extra effort every day to savor each and every moment of camp. Doing so has made me very conscious of how much time I spend in my everyday life planning and thinking ahead. It's really nice to keep things in the now. I hope to apply my new focus on living in the moment when I return home at the end of the summer, and stop spending so much time thinking about tomorrow.
Become so attached to my campers
I never imagined that I could become so close to a group of kids. I came to camp to be their leader.
But it's so much more than that. It's impossible not to be attached after spending so much time with them at activities, at meals, in the cabin and getting to know them one-on-one. It's blows my mind to think that I've become so attuned to their individual personalities in such a short amount of time. The summer isn't even over, and I already know that I'm going to miss them.