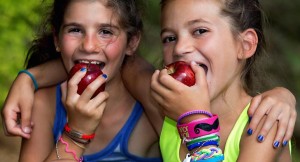 When you combine the ease and affordability of fast food and the ability to record TV to be watched at anytime – the result is kids who are spending a lot of time eating junk and watching junk. Children are spending more time in front of a screen than they are playing outside. Sometimes the only body part getting a workout is their thumbs from playing video games or their index finger from pointing and clicking for hours at a time. Lack of exercise and accessibility to unhealthy foods is what has caused childhood obesity to skyrocket in the last 30 years.
According to the Center of Disease Control and Prevention, more than a third of kids and teenagers were overweight in 2012. The physical risks of childhood obesity are endless: joint problems, pre-diabetes, high cholesterol, high blood pressure. All of this leaves children vulnerable to various types of cancers as they get older. Not only can early obesity lead to a lifetime of bad habits that are very hard to break, but the effects on a child's already very fragile self-esteem and body image can be devastating. Children who are overweight and self-conscious are less likely to participate in team events or sports, try out for a new sport or activity, or be proactive in making new friends. Being overweight can be a lonely and scary time for kids and teens, and it is absolutely preventable.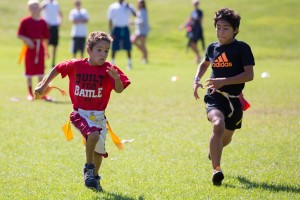 At Camp Laurel, we take the health of each camper very seriously. We have been known to sneak exercise into the daily lives of campers by giving it a new name: FUN. We've also found a top secret, patented way to keep campers from eating unhealthy foods all the time: We don't give them access to calorie filled foods throughout the day. It's novel concept, we're very aware.
The menu at Camp Laurel varies every day. There is always fruit available, and the salad bar is always an option at lunch and dinner. Homemade soups and plenty of healthy options are always available. Whether your child needs a menu that is gluten, dairy, soy, nut or shellfish free, or they have other specific food allergies, a menu of delicious options can be created for them so they can enjoy everything camp has to offer.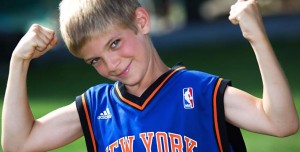 Even if campers do splurge on mac and cheese, chicken sandwiches or get creative at the pasta bar, they will easily work off all of those calories in the endless physical activities that camp has to offer. A game of flag football, an afternoon of kayaking (talk about an arm work out!), an early morning climb up the climbing wall, an impromptu basketball game vs. the neighboring cabin or an hour dancing away in Dance are just a few ways campers can keep their heart rates up while having fun with new friends. Exercise disguised as fun means campers stay active all the time! When campers are so busy running from activity to activity, they don't have time to mindlessly munch on snacks. Plenty of water keeps campers hydrated as they tackle another day of go, go, go!
Camp Laurel wants the best for every camper on every level, including their physical health, which is why we are focused on instilling a positive attitude toward healthy decisions. A mindset focused on healthy food choices and staying active is an excellent value to instill in children. By encouraging children to eat right and exercise daily, they are creating habits that will benefit them as they grow, and allow them to live long and healthy lives.