Summer camp is a fun and exciting experience where time simply flies by. There are – quite literally – hundreds of things to do at camp, which makes it impossible not to miss them when you are not at your summer home. Here are just a few things that will always remind you of camp on those cold winter evenings:
1. Sports
From intercamps to leagues and under-the-light football games, there is no better place to maximize your athletic prowess than at camp. The list of sports at the Laurel Camps is endless: Soccer, Basketball, Lacrosse, Tennis, Hockey, Fitness, Football, Golf, Gymnastics – the list goes on and on. Not to mention the outstanding fields and courts. A summer spent at camp is sure to be action-packed in any sport you desire.
2. Beautiful Waterfronts
Seeing a Mastercraft ski boat or a Hobie Cat is sure to remind you of your unforgettable summers at camp. From waterskiing to sailing to bumper tubing and wake-surfing, camp has plenty of water-sports to fill your day. Echo Lake at Camp Laurel and Crescent Lake at Laurel South are two of the most magnificent lakes in the northeast. Crystal-clear, sparkling and waiting for you!
3. Arts & Crafts
According to the American Camp Association (ACA), arts and crafts is among the five most popular activities at summer camp, and why wouldn't it be? Kids simply love spending a part of their day in a place filled with glitter, paint, scissors, beads, and other craft items. With arts and crafts, the possibilities are endless.
4. Campfires
A campfire is a mainstay at every camp. The activities, songs and traditions differ from camp to camp. However, one thing that remains consistent is the sacred relevance the campfire holds. The fire symbolizes camp life, and the burning wood serves as a reminder of picturesque settings in the Maine woods.
5. Camp Songs
What better place to sing, cheer and shout than camp. We love singing at camp! Whether in the cabin, on the stage or around a campfire, camp songs are a big part of summer life. The slightest reminder of a camp lyric or tune will surely have you reminiscing about your summers spent in Maine.
6. S'mores
A summer isn't complete without s'mores. And besides, it's hard to resist the pleasure of melted marshmallows and chocolate sandwiched between two graham crackers. Just one bite is enough to bring instant memories of camp.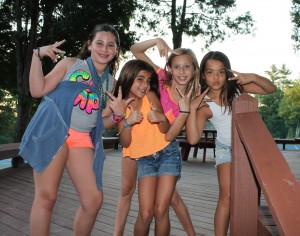 7. Cabins
You might think: "What's so special about a cabin?'" Well, they are much more than places where counselors and campers sleep. It's where everyone becomes a family, memories are made and friendships are nurtured.
8. Bells
Bells guide campers through their day at camp. Wake up, activity change, meals and evening programs – we'd know that sound anywhere! No annoying PA system announcements here. It's back to nature and the call of the wild… Just listen to the loons on the lake, there's nothing better!
9. Crazy Wardrobe Preferences
Camp is perhaps the only place where you will get complemented for wearing bright colors, body paint, hats, wigs and other funny clothing. Funny isn't it? But, it's an experience that will always bring back good memories.