So you've spent a summer—or maybe the better part of your college career—working as a summer camp counselor. You're nearing graduation and you're starting to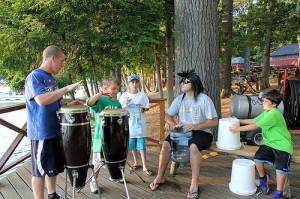 pull together your resume for finding a job in the "real world". You've been wondering, 'How do I adequately articulate my summer camp experience?' You're worried that it will sound trivial to hiring managers, but you know that what you gained from your camp experiences are some of the most valuable skills you've learned. You've learned the art of communication, having worked with people all over the world and children ranging in age from seven to fifteen. You've learned the importance of discretion; your campers didn't need to know EVERYTHING about you. You've learned how to negotiate, mediate, and maintain a positive morale, having coached your campers through swim tests, disagreements, activities, stage fright, and just about a million other things. You've learned time management skills. How many other job applicants can motivate twelve campers to move across campus from soccer to woodworking in five minutes or less, consistently coax them out of bed at 7am, and convince them that it's time for lights out after an exciting evening of activities? You've learned how to use creativity to solve problems and are MacGyver with a few jars of paint, construction paper, a little bit of fabric, some scissors, and maybe a little glitter…add feathers and beads to that mix and you can practically re-invent the wheel. In fact, you've learned so many things as a summer camp counselor that you're not even sure how you're going to fit it all onto one 8 ½" X 11" sheet of paper, nevermind about your other job experience. So how do you convey the importance your summer camp job experience has had on your life in a way that hiring managers will see the value in it, too?
First, as sentimental as those experiences were for you, a hiring manager isn't looking for the screenplay to the next The Blind Side. They're looking for prospective
employees who can efficiently yet effectively and specifically communicate their skills and abilities in a very concise manner. This means keep it relevant and as action packed as most of those days at summer camp were. Convey how active your summer camp job was through the verbs that you choose.
Second, without being too broad, make your resume sing of how well rounded your skill set is because of your summer camp counselor experience. Employers love diversity. A resume that sings of it will be sure to get a hiring manager's attention.
Third, do your homework. Job hunting is not a one size fits all endeavor. You need to know and understand not only what you are looking for, but what the company to which you are applying is looking for as well. If there is a particular quality you feel you possess because of your summer camp counselor experience that makes you a good fit for a position or a company, highlight that one quality in your cover letter. Explain specifically how you feel your summer job experience and knowledge will translate into the new role. Having experience is one thing. Demonstrating that you understand how that experience can be integrated into others speaks volumes.
Fourth, don't be afraid to remind prospective employers, either in your cover letter or at the interview, that being a camp counselor is a 24/7 job. Employers are attracted to people who aren't afraid to throw themselves heart and soul into their work. What's more heart and soul than being on duty 24/7?
Finally, be prepared. Be prepared to tell a hiring manager at an interview EXACTLY why you feel your summer camp experience gives you the edge over other applicants. When asked, don't go into a lengthy mumble that basically amounts to a rehash of your summer(s). Show the hiring manager that you've thought long and hard about how your summer camp work experience is relevant to your future and that you understand specifically how to extract your experiences and apply them to other areas of your life. Most importantly, give examples, give examples, give examples!