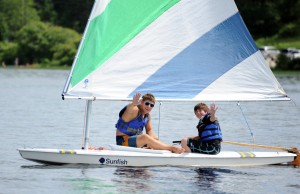 When you think about summer, most of the images that race through your mind probably include two things: sun and water. Whether it's laying out by the lake or beach, running through the sprinklers, zipping through the waves on a boat or jet ski, or contemplating life's mysteries while casting a line out to fish, the summer is meant to be spent in the sun and cooling down in the water. This is why so many campers enjoy sailing at camp. Sailing is an exciting water activity that allows campers to work as a team to reach a common goal. It's also a great way to spend the afternoon, and creates a bond between sailors that can't be created anywhere else.
Campers who learn to sail aren't just learning how to maneuver a large vessel through the water — however, that's a big accomplishment! Everything about sailing is a learning opportunity. Math and science are weaved into the fun and challenging sport of sailing. Sailors learn about the importance of aerodynamics when it comes to the position of the sail. They learn to "read the water" and become confident navigating their way to and from a destination without the help of the GPS on their smartphone. They learn to solve problems quickly, to be observant of their surroundings and find a new appreciation for mother nature. Campers who try sailing leave with useful skills and practical information that will help them for the rest of their lives.
Even if they never have to deal with air pressure or thinking about the curvature of a sail, campers will learn to work as a team, follow directions and appreciate the serenity of being on the lake. Sometimes children and teens have a hard time dealing with quiet moments, or feel anxious when they don't have something to entertain them at every second. Sailing is good practice for just sitting back and enjoying nature, and is a great way for campers to learn to be comfortable in their own silence. All camp sailing adventures are guided and supervised by certified instructors, so everyone is kept safe while they're having fun.
The beauty of Echo Lake is a reason all on its own to take up sailing. The view from the sailboat can't be put into words, and campers often write home how much they love spending their afternoons out on the lake.
Campers have hundreds of opportunities to try new things at camp and learning to sail is another great way to expose them to something they may never try at home. Sailing gives campers a sense of accomplishment that they can succeed at anything they put their mind to.