10 Things to Do before Your Children Leave for
10. Complete all of the camp paperwork. This provides the camp with valuable details about your child that they can pass onto their health center and counselors. Knowing your children's interests before they arrive helps the camp place them into cabins or bunks in which they'll thrive, provide them with the best program options, and be able to supply them with any medication they may require.
9. Buy stationary, pre-address and stamp envelopes for letters home. Many camps have specific time set aside in their daily schedules for writing home. Pre-addressed envelopes help ease the process of sending the letters campers have so lovingly written. This is particularly the case for younger campers. Also, familiarize yourself with your children's camp policy regarding camp packages to avoid disappointment that may result from sending items that are undeliverable to your children.
8. Review the camp's packing list and make sure you have everything. Don't overlook things like extra socks and underwear as well as rain gear and warm clothing.
7. Review your camp's handbook with your children. Camp handbooks contain valuable information regarding the expectations of campers. Emphasize that camps put such guidelines in place for the safety and well being of their campers so that they can insure everyone has the most fun possible.
6. Make your Visiting Day plans and book lodging. Yes, it's true that your children haven't even left for camp yet. But many hotels within the immediate vicinity of a camp often book months in advance. If you're unsure of the lodging options near your children's camp, contact the camp office.
5. Make sure your children's camper accounts are in order. Some camps maintain "spending accounts" for campers. These accounts provide additional funds for campers to take along on out of camp trips to purchase souvenirs or treats. If you're unclear at all, call the camp office. Keep in mind that these are often separate accounts from those that cover in-camp expenses such as canteen and laundry services.
4. Ensure you have all adequate sports and musical equipment in order: the wheels on the roller blades are oiled, the shin pads are the proper fit, and the guitar strings have been tightened. Just as if they are going off to rehearsal, your children's sports equipment will receive as much of a workout at camp as it will at home. Sending your campers with properly maintained and fitting equipment can have a tremendous affect on the success of their summer.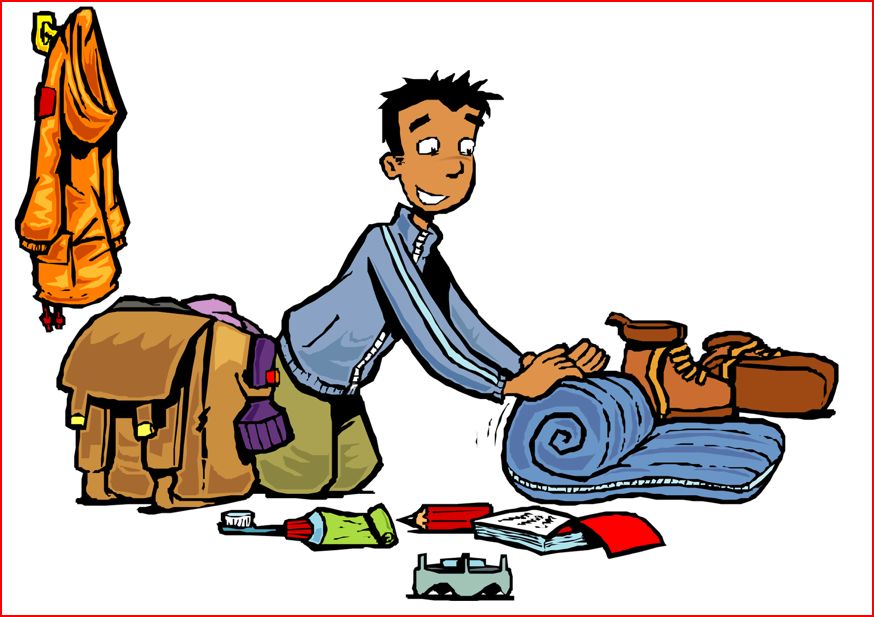 3. Pack. It sounds so simple. Yet, for camp, it's quite the production. Most camps strongly advise against packing any clothing that can't withstand commercial laundry services. It's also wise to remember that camps often downplay the importance of physical appearance, which means leaving the "dry clean only" and "one of kind" items at home is typically a good idea. Once you have your children's bags packed, don't forget to arrange for them to be delivered to camp by the designated date.
2. Review the bus pickup location and procedures. It's particularly important to understand what your children can take on the plane or bus and what they can't. Carefully review whether lunch will be provided for your children either on the trip or when they get to camp, or if you should provide packed lunches for them. Understand the carry-on limitations, particularly in regard to sports equipment. Finally, be on time to the departure point. Of course, people inevitably get stuck in traffic or lost (as is particularly the case for new pickup locations), but try to get a sense of where you're going ahead of time and leave a bit early if necessary.
1. Wish your children an unbelievable, happy summer. They're going to have one! But knowing you're supporting them 100% just makes it that much better— particularly for first time campers. Remind them of all the fun they're going to have. Let them know that you can't wait to hear about it in their letters, and that you'll be monitoring the camp's website daily for blogs and photographs in addition to sending them letters and email.