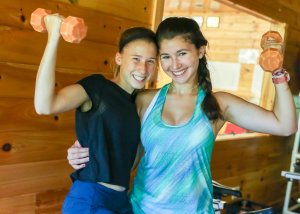 Unless you live on 100+ acres of grassy fields, on a lake complete with tennis courts, an equestrian center and hundreds of your closest friends, then it may be hard to stay as busy and active at home as you do when you're at camp. When you spend your summer at camp, you're surrounded by nature; you have access to almost every sport and activity you could imagine, and; it's easy to spend your days — literally — running from one adventure to the next.
When it's time to come home from camp, some campers find it easy to fall back into more laid-back routines, consisting of computer time, TV time and video games. However, it's easy to take some of the things you learned at camp and apply them to your normal routine at home. You may not live on a lake, but you can still get outside and enjoy the sunshine. You may not have access to a soccer field, but you can still get outside with friends and kick the ball around. You can still go for a run, start a pick up game of baseball with other kids in the neighborhood, or put together a dance routine to impress your family after dinner. There are many ways to stay active while you're at home, and you don't need 100+ acres or counselors to help you do it.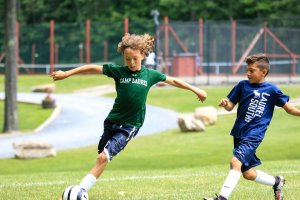 Staying active during the fall and winter months is very important to your overall health. When you feel good physically, other aspects of your life seem to follow. Your confidence improves, which helps you build healthy and strong relationships. Exercise has been scientifically proven to release hormones that help you focus in school, help you sleep well, and help promote strong bones and muscles. It's great for your heart, and the endorphins released when you exercise gives you an overall sense of happiness.
Many campers are introduced to a sport while at camp, and then choose to continue pursuing that sport throughout the school year. If you loved soccer at camp, why not try out for the school team? If you really loved gymnastics at camp, why not look into joining the competitive after-school team? By staying active during the school year, you give yourself months of practice before returning to the sport at camp over the summer. You will be amazed at the progress you can make from one summer to the next.
Staying active at home can help improve all areas of your life. Being active makes you happier and healthier, and is something all campers can do to boost their confidence in the months when they aren't at camp.