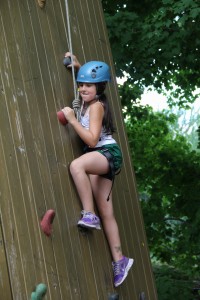 She wasn't sure what was going to happen first: either her heart was going to beat out of her chest, or the butterflies that were soaring around in her stomach were going to somehow find their way out.
Nervous didn't even begin to explain how she was feeling as she looked up the gigantic wall. She knew all she had to do was put her feet, which were now firmly planted on the ground, on one of those colorful rocks, reach up with one hand and grab another one, and she would be officially off the ground. As her sweaty palms met the first rock, her counselor spoke quietly right behind her, whispering words of encouragement and support. As she took the next step and inched her way up the rock wall, she had to remind herself to breathe. Then she heard her friends encouraging her and cheering her on. "Left foot, right hand, right foot, left hand," she said to herself. The further she got from the ground, the louder the cheers became. She was actually doing it! She was climbing the wall that she said she would never do from the moment she stepped foot onto camp. She wanted to look down to see the crowd of people cheering her on, but she decided she'd just focus on getting to the top.
As she stopped to take a breath, she looked around and marveled at the sheer beauty of the camp. The tall trees, the blue water, the sprawling green lawns – she had never seen camp from this viewpoint before. She knew she was halfway there because her friends' chants told her so, and she suddenly got a boost of energy and continued her trek up the wall. Just a few more rocks to climb and she'd be at the top. She wasn't sure when her nerves turned to excitement, but as she reached for the top of the wall, she felt a power and a confidence like never before. Her friends and counselors erupted in applause and she screamed, "I DID IT!" at the top. As she propelled down to the crowd of supporters, she walked away with a new sense of self-confidence and accomplishment.
The wall symbolized everything she was afraid of, and she conquered it. She grew closer to her friends and counselors because of their unwavering support, and she went home with a fresh perspective on obstacles and challenges. "Now, when something is hard or scary, I say to myself: I climbed the rock wall at camp. I got this."
The Rock Wall, Adventure Park, Ropes Course and Zip Line are all vital parts of the Adventure Program at Camp Laurel. These activities push campers out of their comfort zone. Whether they are climbing the wall on their own, or working as a team to maneuver through the high or low ropes courses, these adventures help campers excel with teamwork, leadership, goal setting, cooperation, positive-risk-taking and trust. These vital characteristics are taken from camp and built upon in the outside world, creating well-rounded individuals who work well in group settings, can trust others as well as themselves, and set goals and meet them. Who would have thought soaring down a zip line or flying through the air on a giant swing could be so important for a child's emotional well-being?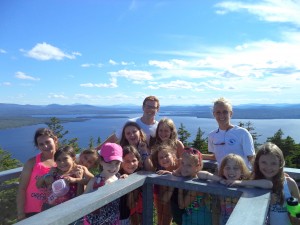 Inner-strength, confidence and accomplishment aren't only gained through climbing great heights. Overnight camping trips are another activity at Camp Laurel that offer a wide range of benefits. The skills campers learn teach resourcefulness, self-sufficiency, trusting their instincts and being in touch with their surroundings. The overnight camping experience helps campers develop a strong sense of teamwork, as they work together to set up tents, build fires, cook their meals and explore the woods.
As campers climb, camp and fly their way through camp, they are creating lasting memories, gaining valuable life skills, and experiencing adventure in a safe and supervised environment.
Campers will come home from camp different than from when they arrived. They will come home more confident and courageous – thanks to all of the amazing activities, like the Adventure Program, that Camp Laurel has to offer.