Our Bec and Bago campers returned from their Extended Trips to Boston and Montreal and they had a great time! Except for our Super Seniors who return this Sunday, we're all back as one Laurel Family. It was an incredible last week — in camp and out of camp — and we are all excited for the program-filled week that lies ahead. The weather has been incredible and everyone is energized for the next two weeks of camp.
We have a lot in store these next two weeks. Coming up, we'll be immersed in activities far and wide — on the Ballfields, on the Hard-Courts, on Echo Lake, in the Adventure Courses and in all our Art Studios — all over camp. Trips and Intercamps are still in full swing. Rehearsals for Sleeping Beauty are in high gear. Sixth Period Specials abound in every area of camp. And everyone is excited for their groups "movie trip" a time for campers and counselors to chill out, relax, and take a break from the heat.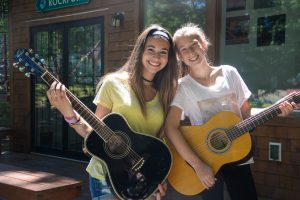 Take a look around Laurel — its crazy to think how fast the last five weeks have flown by. But as we like to say in Readfield: The very best is yet to come!