Duffles are unpacked. School is once again in full swing. Summer ­ and camp ­is far on the horizon.
But throughout the school year ­and for the rest of their lives ­campers will draw upon, and draw strength from, the positive experiences of the past summer.
Dr. Christopher Thurber describes some of the transformations we witness every summer at camp. A clinical psychologist, he notes that many children head to camp with "core fears." These include being judged, looking "less than cool" and being alone.
Fearing judgment can come from many reasons: one's background, body size or perceived lack of physical skills, for example.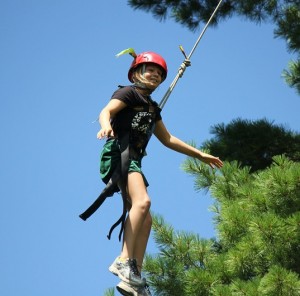 At camp, the staff — and the environment they create — gives each camper a chance to
show off his or her special talents and skills in an emotionally safe place. There's nothing like positive judgment to make a child's summer.
The fear of not being successful can cause some campers to shy away from trying new activities. That's why it's so important for staff members to lead by example and try new things. We call it "modeling," and we emphasize it over and over among our staff AND campers. Modeling behavior can sometimes make one look goofy ­ but it sends the message that there's nothing wrong with being silly, trying new things and taking safe risks.
Camp is a place where caring, committed, compassionate adults provide stability and warmth. It is this environment and community that gives children and teens the strength and confidence to say, "I am going to go for it. I can overcome this. I can do this."
When campers return home each year, they talk about activities, friends and counselors. They remember fun and funny moments. They seldom verbalize the fears they've had, and how they've met them head on. But that is as much a part of any camp experience as swimming, cookouts and College Days or Spirit Days. And confronting these fears is what builds self-esteem, develops a greater sense of self, and allows our children to take safe risks and thrive far beyond the fishbowl of camp.