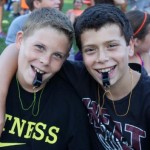 We are going into our Final Day of College Days 2013 and it's been nothing short of spectacular. After a phenomenal beak with the Cessna Aircraft pulling banners over Echo Lake, it all started. Clemson and Wake Forest. Wake Forest and Clemson. We've been immersed in activity, program, sport and fun for four days. Tomorrow, it all comes to a close.
What've we done? Lets see: Arena Soccer, Capture The Flag, Bucket Brigade, Basketball, Slam Dunk, Softball, Chess, Climbing, Soccer, Tennis, Fishing, Hockey, Gaga, Dance, Sail Regatta, Swim Meet, Track Meet, Captains Coming, Wacky Relays, Float, Plaque, Song, Cheer, Grad Exercise and more. Our incredible Super Seniors have led us through almost five days of this event and they were exemplary.
What was your favorite part? Silent Dinner? Rope Burn? Fight Song Competition? Keith Says?
We loved it…and will be ready Wednesday afternoon to get back into one Laurel family for the last three days of camp. Where has the summer gone??