As we head into the last week of camp, it's been a whirlwind of rumor and excitement. First there was the huge Monster Truck atop the roof of the Theater complete with sound effects and lights. Then there were the Super Seniors decked out in Green and Blue in the Dining Hall at lunch rockin' and rollin' to "Monster Mash" on the loudspeakers. But no wait…it was all a fake. There's more to come.
The monster theme continued today. When campers returned to their cabins after lunch, they were met with individual Monster Cards on their beds instructing them to go to the Soccer Field for a surprise. We've changed the program. It's now Monster Days 2017. But no…wait…FAKE! Once we were all gathered to review the new Monster Days theme a huge (and real) MONSTER TRUCK came through the Front gate, made its way to the Soccer Field complete with real 2016 College Days Banners…and it all began! College Days 2016! It was incredible!!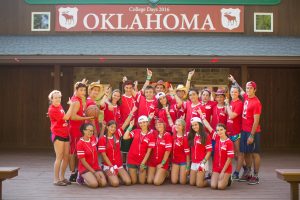 The Baylor Bears versus the Oklahoma Sooners. Five days of sports, waterfront and track meets, games, contests, cheering, activities, songs and more. A great time to watch our Super Seniors lead the way to an awesome week of fun and spirit. Stay tuned for details and results throughout the week!