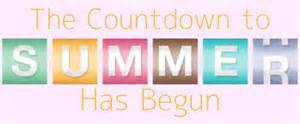 For the millions of youth who call summer camp home each summer, excitement begins to grow exponentially just after spring break each year. Not only is the end of another school year just around the corner, but the beginning of another camp season is oh so close that campers can practically smell the campfires. A variety of countdowns help them keep track of just how many sleeps are left until they're back in their bunks or cabins and reunited with camp friends. Oh, of course there are the literal countdowns of exactly how many days, minutes, and hours are left that are featured on many summer camp apps and websites. But kids tend to be a bit more creative than website designers when it comes to countdowns and pre-camp rituals.
Parents may be a bit mystified, for example, when they're handed a pillowcase, blanket, towel, etc. that campers have conveniently kept out of the laundry basket for the past several months because it "smells like camp." For campers, this is just the release of one summer as part of the final preparation stages for the next. For parents, it's a good reason not to send the good pillowcases to camp.
The amount of times the word camp finds its words into a conversation—and sometimes even a single sentence—steadily starts to rise again. Maybe there is just
something about seeing green, or maybe it's the warmer days. Whatever the motivating factor, after a graduating dipping off during the coldest winter months, with the arrival of spring comes the re-integration of camp lingo into everyday speech. Parents need not become frustrated, children are usually happy to translate until someone gets around to writing that all important Camp Dictionary for Parents Who Want to Know What Their Campers Are Saying.
Some campers measure the time left until camp by the amount of episodes remaining before the season finale of their favorite television shows and then the number of weeknights they have to endure with nothing on television but reruns to watch until camp starts. Still, others prefer the exam approach and countdown their time until camp by the number of tests remaining in the school year. (Note: Some counselors use both of these approaches as well.)
Clever Apple users countdown with SIRI and hold daily conversations with her about camp. Others like to plan ahead even further into the summer by making out their Visiting Day snack lists, just in case they get too busy to do so after they get to camp. Countdowns are rarely a matter of just plain counting down when it comes to camp. Like camp itself, they're full of ritual and meaning.