A wise old man named Albert with crazy hair and a mustache once said: "Creativity is contagious; pass it on."
At Camp Laurel, we're focused on following the advice of Mr. Einstein by passing the love and excitement of creativity to our campers. By giving campers an opportunity to express themselves through art, music, dance and theatre, we're uncovering hidden talents and gifts that all campers have. In a world where kids are trying so hard to be "cool," they can quickly lose their sense of wonder and imagination, and their creative side can be stunted. Younger children are trading coloring books for iPads and choosing to create an Instagram account over choreographing a dance in the living room. What a plain and boring world we'd live in if the imagination and creativity of our children is not encouraged and embraced!
Camp Laurel gives campers a wide range of activities and options to explore their inner artist. Campers can try their hand at Studio Art or Arts and Crafts, Ceramics or Metals, or even Culinary Arts and Music Production. For those who have already discovered their creative strengths, experienced staff help campers improve their skills and allow them to spend time doing things they love. For campers who feel that they've never been good at a particular art form, camp is a safe place to try without fear of failure or embarrassment. It's also great for children's self-esteem to try something new and to succeed. There are many other forms of creative expression, such as Musical Theatre and Hip-Hop, Jazz or Modern Dance. These options combine music, physical movement and artistic expression, and allow campers to conquer stage fright by performing in front of an audience. Class clowns may find a creative outlet by trying improv and comedy, while the more techy, behind the scenes kids will enjoy working in lighting, stage make-up, stage construction and design. Each of these Inter-Arts activities combines the unique, personal and intimate aspects of creative arts, while also encouraging campers to work together as a team and as a support system for each other.
Future music artists of America can get an idea of how the music industry works by participating in Music Production or getting involved in the camp Radio Station. Regardless of how each camper expresses themselves, there is a creative outlet at camp where campers may flourish.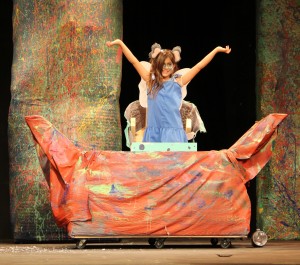 When a camper makes something from nothing: a ceramic mug, a poem or a new dance, they gain self-confidence and feel a sense of empowerment that's hard to find anywhere else. It's possible that the strengths and gifts they discover within themselves at camp can launch them into a hobby or even a profession they might enjoy the rest of their lives. They also learn how to appreciate the unique creativity in other people, which results in more accepting, well-rounded and open minded individuals.
Discovering, understanding and expressing creativity does wonders for the growing character and sense of self in a young camper. When campers realize that it's cool to be creative and expressive, a whole world of opportunities is open to them. We can only hope that once campers tap into their own creative side, they pass it along to their friends and peers in the outside world, causing a chain reaction of imagination, artistic expression and creativity: just as good 'ol Albert suggested.