The pace is pretty frenetic as we enter Week #6 of the summer. We're well into Second Rotation programming and all departments look strong. Campers have acquired and honed skills all over the map from the athletic fields to the waterfront, adventure course to the metals studio, equestrian center to the fitness center.
Our Bec and Bago campers returned from extended trips to Boston, Montreal, Sunday River and the White Mountains of New Hampshire with over-the-top reports.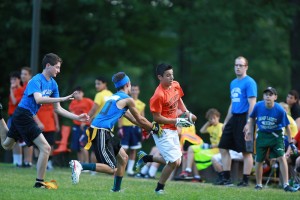 Lake Swim prep culminated this week with the annual Echo Lake Swim and 6th period specials are a hit all over camp.
From Davis Cup Tennis to Record Your Fastball to Rocket Launches, Extreme Spin Classes and more, everybody loved their special late afternoon "try it " programs. Rehearsals for the big Acadia and Apache musical Mulan are in final stages for Friday's afternoon matinee performances.
As we enter the last 10 days of camp, its so great to see cabin and group relationships so strong. Friends, cabinmates counselors, cousins, camp sisters, camp brothers: everyone's immersed in the Laurel spirit.


Last Fridays all-camp campfire was spectacular. The songs, stories and even alumni musings from United States Naval Academy's Ben Berkey (Super Senior 2007) were amazing.
We look forward to what is sure to be a fantastic and memorable next 10 days of camp!