Looking back at my first summer at Camp Laurel I fondly and vividly remember getting off the bus to loads and loads of cheering campers and counselors. I met my counselors and my new friends and made my way to my cabin where my bed was neatly made. Arriving at camp for the first time felt like a whirlwind, and then it was calm as I read the letter from my parents that was waiting on my pillow.
Heading into my Super Senior summer, I remember cheering for the same friends – and all the younger campers – as they got off the bus. Some had butterflies – I'm sure – like I hadn't since my first summer. I watched with excitement as the youngest campers eagerly awaited meeting their counselors and cabinmates. I also felt a twinge of sadness because I knew that even though the summer I'd been looking forward to every year at camp was here, it meant I was that much closer to my final days as a camper.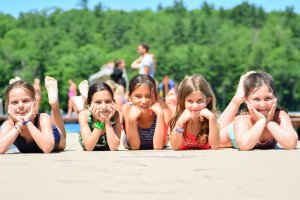 Experiences at camp summer after summer brought remarkable transformations to my life. Over the years I learned to trust others, build relationships, accept guidance and develop decision-making skills. More than that, the friendships I made and the memories we created will last a lifetime. Spending my summers growing up at Camp Laurel has shaped me in the most positive ways.