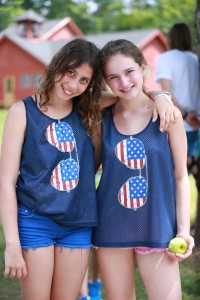 Our first, great full week of program is coming to an end. Hard to believe we just got here last Saturday. So much has gone on the past week that it feels like one big, giant flurry of activity. We've settled into our summer routine and look forward to what's coming up. Because of a little liquid sunshine today, we moved tonight's Fireworks Show to Saturday where they're calling for clear skies. We can't wait. If you had a giant video camera in Readfield, you'd be amazed. The Athletics and Waterfront instruction is unsurpassed. Our Adventure and Arts areas are alive with creativity and activity. Tennis is better than ever. Chefcamp is, truly, in a class by itself. Rockport is all the rage. Incredible. Ropes, Climbing and Mountain Biking are fantastic. And let's not forget about our 21 ponies and horses at the Equestrian Center.
We're looking ahead to Camping Trips starting this week; Beauty and The Beast rehearsals in full swing; The Quest on Sunday and our first In-Camp S Day…yessssss!!
But first – The Counselor Cabaret tonight in the Fieldhouse!