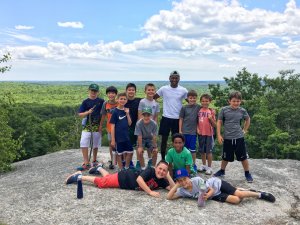 One of the great parts of going to camp in Maine is the natural resources at our disposal. From the rocky coast of Camden and Kennebunkport to Baxter State Park and Acadia National Park — Maine has it all. In addition to our in-camp adventure program (Rock Climbing, Aerial Park and Mountain Biking), Camp Laurel has an extensive Outdoor Tripping program where campers take one, two and three night overnight trips to locations throughout the state.
The trips are relatively low-impact and available to every camper who has an interest in the great outdoors. We encourage all Acadia and Apache campers to try at least one overnight trip – and most do. The expressions on the faces of these young campers when they return to camp, having conquered hiking, sleeping under the stars in a tent and cooking their food over an open fire are priceless.
While we love our in-camp programs, sometimes it's great to connect with nature and enjoy Maine – The Way Life Should Be!