It's easy to think, when you leave Maine at the end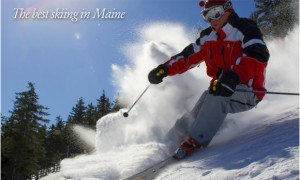 of the camp season, that nothing happens there the rest of the year. Waterskiing, sailing, lacrosse – it's all over.
Yet the state is a year-round sports haven. And nothing says "Maine" more than winter sports.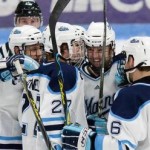 There are nearly two dozen ski resorts in the Pine Tree State. Sugarloaf and Sunday River may be the best known, but there's a mountain for every ability – with your choice of downhill, snowboarding or tubing – throughout Maine. Many high schools sponsor ski teams too, but not restricted to alpine skiing. X-Country is a staple at many schools! Pretty unique – lettering for 4 years on your HS X-Country Ski Team.
The big spectator sport is hockey. The University of Maine men's team is a national powerhouse. But nearly every town has its own rink, so there are great hockey games everywhere from the coast to the Canadian border.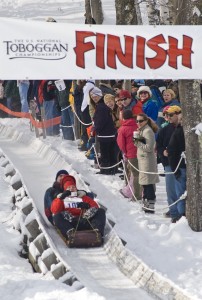 Ice fishing is big. Cutting a hole in the middle of a lake sounds like an acquired taste. But add a bunch of friends, amenities like a heated cabin, and competitive "ice fishing derbies" – a winter staple – and the result is a truly impressive way to spend a beautiful winter day.
Last year, Camden played host to the U.S. National Toboggan Championship. Two-, three- and four-person sleds raced down America's only 400-foot wooden chute.
And in 2010, the World Biathlon Championships came to Presque Isle and Fort Kent. The competition – combining cross country skiing and rifle shooting – rivaled the 1965 Muhammad Ali-Sonny Liston heavyweight championship fight as one of the biggest sports events in Maine history. An estimated 120 million Europeans watched the televised races.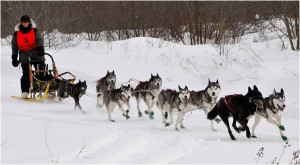 Maine also hosts a 100-mile sled dog race – one of the top such events this side of Alaska.
It's easy to think that when the buses pulls away in August, the state goes to sleep.
But as any Mainer can tell you, winter sports are an important part of the fabric of the state!