Maine is known for many things: Lobsters. Lakes. Moose. Pine trees. Summer camps.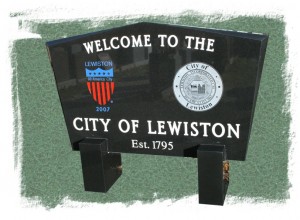 It's not often associated with professional boxing. But on May 25, 1965 Muhammad Ali and Sonny Liston met in a rematch of their 1964 heavyweight championship bout. The site was one of the oddest in boxing history: Lewiston, Maine.
It was originally scheduled for Boston, six months earlier. But Ali underwent emergency surgery for a strangulated hernia; a Massachusetts promoter claimed the rescheduled fight was not properly licensed, and at the last minute it was moved to a junior hockey rink 35 miles north of Portland.
According to Wikipedia, Lewiston was the smallest site of a heavyweight title match since Jack Dempsey's victory in Shelby, Montana in 1923. It's still one of the most famous sports events in Maine history.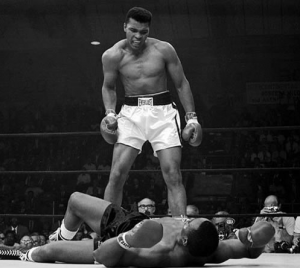 It's also one of the most controversial boxing matches ever. Halfway through the first round, Liston went down with a thud. Hardly anyone had seen a punch. The referee – boxing great Jersey Joe Walcott – seemed confused when Ali stood over Liston and yelled, "Get up and box…!"
The normal 10-second count took twice as long. By the end, Liston had gotten up. But Walcott – after listening to a boxing writer who climbed into the ring – stopped the fight, and awarded Ali a knockout. That too was controversial: Ali had taken a long time retreating to a neutral corner, which is when the count should have started.
Nearly 50 years later, the Lewiston fight remains legendary. Did Sonny Liston take a dive? Was the 10-second count legitimate? Why was there so much confusion?
No one will ever know. But half a century later, the only heavyweight title bout ever to take place in Maine remains a story for the ages.