From the Tennis Courts to the Dance Studio and everything in between, the last week of camp has been incredible. Every program area has been humming in high gear. Take a look at Laurel Today.
We played in more than 20 intercamps this past week. Not to mention camping trips, Golf Plus, the 12-way 8th grade Wildwood Dance Extravaganza and S-Day trips to Boothbay, Funtown, Splashtown, Aquabaggon and the Old Port. This past Sunday we had a phenomenal Quest Day with the Cool Collegiate's bringing home the coveted Chinese food at Alliquippa prize. Ronnie Rahm the Hypnotist once again captivated us in the Fieldhouse.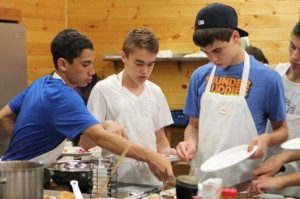 Rehearsals for Guys and Dolls are in full swing. The music coming out of Rockport is awesome! Campers are getting up on waterskiis all over Echo Lake. And Fitness is all-the-rage once again under Trumbull's watchful eye. What about Chefcamp? Never been better with Chef Sarah! As the sun goes down, groups can be seen at the Alliquippa and Lean To for campfires and s'mores….and wait, tonight its Skillz Night and Baxter /Sequoia Counselor Match. We can't wait!!