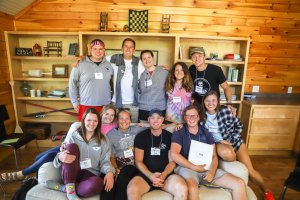 Our full staff arrive in three short days, but our summer has been well underway with several Pre-Orientation programs. Camp Laurel's administrative staff is made up of an almost entirely veteran crew, and this week is the time for them to re-connect with colleagues and greet new staff for the first time.
The week leading up to Staff Orientation is also a special time for everyone to focus on what's ahead and dive deep into what makes Camp Laurel so special. We've already welcomed our incredible group of Campus Leaders, Department Heads and Adventure Counselors. Before the rest of our staff arrive, we'll also welcome our Small Crafts Counselors, Health Center Team and Equestrian Staff.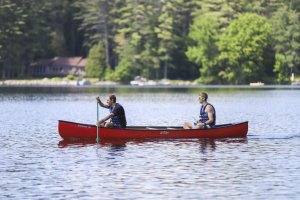 These groups of incoming staff are always happy and excited to arrive at Laurel, and ready to learn about the summer ahead. Our Small Crafts staff get extra time on the water to familiarize themselves with our fleet of boats. The Adventure counselors go through specialized training focused on curriculum and safety within their specific programs — outdoor tripping, climbing or aerial park. And the Department Heads and Campus Leaders go through their own training about how to lead incoming counselors and staff.
Everyone is smiling and loves the beautiful Maine weather. We're thrilled to welcome the full staff on Friday and even more excited for camper arrival on June 23rd!