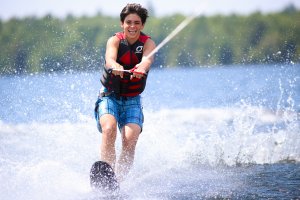 After a welcoming and busy first week, we hit the ground running Monday with our Intercamp and Tournament Schedule; Overnight Camping Trips; Golf Plus Program; and first S-Day Trips this coming Thursday. But first, of course, the great July 4th Fireworks Show over Echo Lake on Wednesday night. Our annual Ronny Romm Hypnotism Show last night was spectacular once again, and our first ever Bec and Bago Lodge Nites were amazing.
While the program runs, we want to take a moment and point out that in addition to our Head Counselors, Campus Leaders, Assistant Campus Leaders, Counselors and Instructors, Laurel's program is overseen by 5 outstanding Program Area Directors.
Holly and Warren at the Waterfront (40 summers each!); Zack in Adventure and InterArts (18 summers); Gus and Corey at Tennis (17 summers combined); Tom and Eric in Athletics (34 summers combined) and Kendall at Equestrian (3 summers) oversee our complex and intricate program in each of their respective fields of expertise.
To say this crew is All-Star is an understatement.
While we always say the cabin experience at Laurel is primary – and it is – the level of instruction and development in our 6 core areas can be directly attributed to these fine professionals, and we could not be more proud to have them with us each summer.