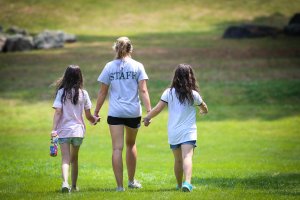 We're so excited to see you tomorrow! Your children can't wait to see you and look forward to introducing you to their friends and counselors and demonstrating some of the skills they've acquired the first month of camp. Here are a few reminders for a great visit tomorrow:
— Camp opens to visitors at 9:30 Saturday morning. We encourage you to arrive by 9:00AM so that you can park, pick up the schedule of the day, enjoy a cup of coffee, and get directions to meet your camper(s).
— While you are welcome to bring modest amounts of food, please ensure that you avoid products with nuts. Also, keep in mind that, on Sunday, all goodies left from Visiting Day will be donated to a local food bank, so don't overdo it.
Have a safe trip to Camp!