We often say being a counselor is "the toughest job you'll ever love." Being part of the Camp Laurel team is an incredibly fun way to spend a summer. And accepting a position comes with many responsibilities and opportunities for personal growth. The counselor position brings with it an opportunity to give so many children the confidence and independence needed to succeed in today's world. Camp counselors provide an unforgettable experience for countless campers every day.
Camp counselors spend their summer interacting with campers and other counselors while being surrounded by nature. Counselors view life through the eyes of a child – an experience that will only feel further away as we grow older. Camp counselors not only teach, they also learn. They learn practical, social and problem-solving skills. They learn patience, trust, teamwork, time-management and how to have an impeccable work ethic.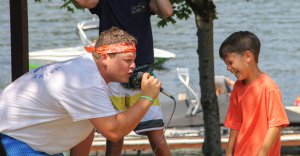 You could work at the local mall, walk dogs, file papers or wait tables over the summer. But at the end of the day, what could be better than spending the summer as a camp counselor: positively impacting the lives of others, working as part of a team, singing songs around a campfire with friends…The list goes on!
When you're thinking about what you should do over the summer, consider Camp Laurel. You're applying for one of the most exciting and rewarding jobs on the planet. And that's why we say it's the toughest job you'll ever love.