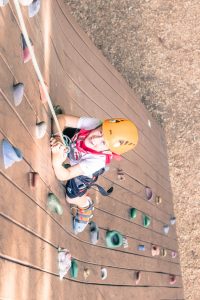 The impact of a Camp Laurel summer is unique for every camper and counselor. Everyone at camp is engaged and active in the moment. Campers focus on having fun or trying something new, rarely realizing the character-building and social skill development that's naturally taking place. Campers are constantly working together and encouraging one another. It makes them more empathetic, responsible and kind.
Campers are also getting out of their comfort zones in the best way. They are encouraged to take 'safe risks' like learning to waterski or ascend the climbing wall. Well trained, highly skilled counselors reassure and encourage campers to overcome challenges. Campers begin to understand that skill development doesn't always come easy. It takes practice and patience. Campers rebound from mistakes and stretch their abilities and interests to new places.
Self-confidence comes naturally to some, but it's also a trait that can be developed. Summer camp offers a chance for campers to develop these traits naturally. Campers view themselves as capable when they succeed and resilient when they persevere. They perceive themselves as fun and interesting due to the relationships they create in their cabins and around camp. In short, campers discover and establish the best version of themselves. And that confidence sets the foundation for the individuals they become.