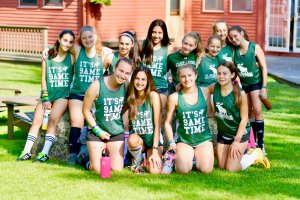 It's very, very hard to believe there are only four days left of Program (actually, somewhere between 3 and 5 days, but we won't say exactly lest you figure out when College Days will "break." It's incredibly rewarding to see campers taking incredible advantage of their last regular program days of the summer. Mastering skills; finishing arts projects; dropping a ski for the first time; challenging a group-mate on the Tennis Ladder; challenging themselves in Dance or Fitness; scaling the Climbing Tower; running the Fit Trail; learning a new recipe in ChefCamp. The list goes on and on.
It was an action-packed week highlighted by the Triathlon and Lake Swim.
This weekend will feature great weather, and we'll continue to play through until our Super Seniors tell us otherwise; after all, it's they who help mastermind the start of our summer culminating activity. We'll keep you up-to-date on all the goings-on in Readfield, and hope your weekend at home is going to be as special as ours, here on the eastern shore of our favorite lake!