Camp Laurel is the ultimate place to let loose, be comfortable and be yourself. All summer long, campers are rocking face paint, transforming into super heroes, improving at their favorite sports and activities, and letting their imaginations run wild. Counselors let their inner child emerge, too. Everyone at camp feels safe: safe to use their imaginations and safe to be themselves.
Camp Laurel encourages campers to be themselves in a variety of ways. Planned down time allows campers the opportunity to explore and socialize with friends in a way that is supervised, but not overly structured. Campers have a catch, shoot hoops, play ping pong, and explore their interests. During structured activities, children are supported when they speak their minds, share opinions and talk things through. They learn to listen and respect one another. This allows campers to see different sides of a situation. Every summer, campers grow socially and emotionally in a unique way.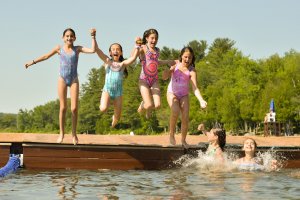 Counselors capitalize on their strengths of being fun, relatable, silly and responsible. They take pride in being role models. They help set the tone all summer by calming themselves down when it's time to be more serious, and campers learn to differentiate times to be silly and times to be focused.
Children are often expected to be focused and serious throughout the school year; at camp, they foster their childlike wonder more often. At camp, children feel safe to show off their relaxed and sometimes silly side.