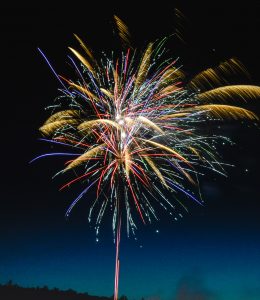 Week #2 started with a bang – the biggest Fireworks display in all of south central Maine over Echo Lake. Along with Camps Vega and Winnebago, we lit up the night sky with a spectacular display of pageantry and fun! It was an incredible night of fireworks, 3-D glasses and bomb pop ice cream on the shores of Echo Lake.
And with the bang of fireworks came Intercamps and trips, which are in full swing this week. In the athletics world our boys are competing with Manitou, Androscoggin, Caribou, All Star and Winnebago…while our girls are competing with Vega, Matoaka and All Star in the Central Maine Girls Camp League. Meanwhile in adventure we've hiked at Bradbury State Park and Three Rocks and in ChefCamp, Chef Isabelle and our campers are creating masterpieces and incredible delicacies every day. We also had our first camper Talent Show last night (to rave reviews from the packed house and crowd) and tomorrow is our first Out of Camp S-Day with trips to Fun Town, Aquaboggin, Boothbay, Old Port and Splashtown. To round off the week we'll have Sports Night Thursday Night under-the-lights and our all camp Council Fire Friday Night.
We are running full steam ahead – and life is great in 04355!