Going to camp in Maine means spending your summer on an incredible lake. Maine lakes are among the cleanest, biggest and most beautiful in the country.
At Camp Laurel, we are fortunate to be situated on Echo lake, which is 9 miles around and a mile wide.
Echo Lake is home to Camp Laurel and two other camps — Vega and Winnebago. We are part of the Echo Lake Association and take an active role in keeping the quality of the lake extraordinarily high. We are also part of the 30-mile Watershed Association, which monitors the activity of the 7 interconnected lakes around Readfield, Maine.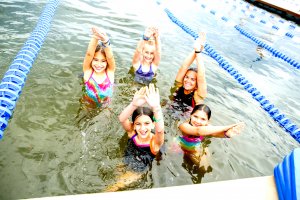 Every water sport is available to our campers:. Swimming, fishing, canoeing, kayaking, stand-up paddling, sailing, waterskiing – and campers take advantage of the lake every day. Many – multiple times per day.
Many camps around the country have pools – but very few private camps in Maine have them. They're not necessary because of the quality of our lakes. It's been said that because Echo Lake is so clear – you can play cards at the bottom.
While we love all the activities and programs at camp – we particularly love the beauty and recreational opportunities that Echo Lake affords all of us.